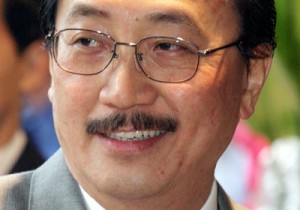 Vincent Tan Chee Yioun
BACKGROUND
Vincent Tan Chee Yioun (often just called Vincent Tan) is the Chairman and CEO of Berjaya Corporation Berhad.  Born in 1952 in Batu Pahat, Malaysia, he grew up in a poor family.  After graduating from secondary school, he wanted to study law, but his parents could not afford to pay tuition.  He ended up working instead, as a bank clerk and later as an insurance agent at American International Assurance Company in 1973.  At the latter job he was promoted to Senior Sales Manager within four years, at the tender age of 23.
One day Vincent read an article about the McDonald's fast food chain.  He felt inspired by the idea of entrepreneurship, and applied to own a franchise.  His application was initially rejected, but he tried again and was approved.  This led to him opening the first McDonald's location in Malaysia in 1980, in Kuala Lumpur; he was only 29 at the time.  He held a 51% stake, and the success of the business generated some wealth, motivating him to diversify into other ventures.  In 1982 he acquired a majority stake in Berjaya-Kawat, a steel company, then changed its name to Berjaya Group.  In 1985 he bought Sports Toto and obtained a license for a lottery business.
Through the 1990s and 2000s Vincent built Berjaya through acquisitions and franchises.  In 1993 he bought Cosway Malaysia, a successful direct-selling marketing company.  He went on to open franchises for many big-name chains, including Starbucks Coffee  (1998), Wendy's restaurants (2007), Krispy Kreme Doughnuts (2008), and Papa John's Pizza (2008).  For the latter restaurant, he has been granted the first right of refusal for any proposed expansion of the business to Vietnam, Singapore, Thailand, Indonesia and The Philippines.  In the foodservice industry, Vincent is the master franchise holder for Kenny Rogers Roasters' restaurants worldwide, with over 300 restaurants.

The Berjaya Group also expanded to property development and investment.  It entered into numerous joint ventures in countries such as Vietnam, China, South Korea, and Thailand to undertake various property, infrastructure, hotel, and resort projects. The Group owns and operates a chain of 18 four- and five-star hotels in cities and tropical island resorts in Malaysia and abroad, offering over 4,000 rooms.  In 2008, Berjaya moved into education – opening Berjaya University College of Hospitality, Malaysia's first university college specializing in Hospitality, Tourism, and Services education.

Beyond the aforementioned industries, Berjaya is also involved in financial services, media, motor vehicle distribution, and the environmental sanitary landfill business.  Over time Vincent transformed the company into a diversified conglomerate listed on Bursa Malaysia, the local stock exchange.  Outside of the company, Vincent has holdings in Internet-related businesses, water utilities, broadcasting, and telecommunications.  Today, Berjaya and his other private businesses employ more than 30,000 employees and have combined revenues of over RM 27 billion ($8.18 billion) worldwide.  His corporate success has resulted in Vincent attaining a net worth of $1.2 billion, making him the 14th richest person in Malaysia.  It has also led him to receive many honors, including Property Man of the Year Award by the International Real Estate Federation (2004); the ASEAN Businessmen Award by the Hanoi Business Association in Vietnam (2007); the BrandLaureate Personality Award by the Asia Pacific Brands Foundation (2009); the Lifetime Achievement Award by the Kuala Lumpur Malay Chamber of Commerce (2011); and the Lifetime Achievement Award on Leadership in National Philanthropy by the Asian Strategy and Leadership Institute (2011).  In 2012, Vincent retired from an active corporate role in Berjaya.
CHARITABLE HISTORY
Vincent Tan cares very much that others are able to benefit from his good fortune.   He conducts philanthropic work through two vehicles:   the Better Malaysia Foundation (his personal foundation) and the Berjaya Cares Foundation (the corporate social responsibility arm of The Berjaya Group).  More information on each is provided below.
Better Malaysia Foundation (BMF)
Launched in 1997, BMF supports various causes, focusing on the areas of education, medicine/health, and humanitarian aid.  Major programs include:
Improving the standard of English in Malaysia.  The foundation is working with a non-governmental organization (NGO) to set up community learning centers in several parts of the country to offer free education and soft skills training, with an emphasis on the English language, to underprivileged communities.  The initiative highlights the importance of English in global and business communications.
Medical research and health services.  Besides providing financial aid for health causes such as the treatment of diseases ranging from kidney ailments to cancer to AIDS, BMF has also set up a free acupuncture center and is funding two hemodialysis centers to subsidize poor kidney patients.
Berjaya Cares Foundation (BCF)
The Berjaya Cares Foundation was set up to create greater synergy between the CSR initiatives of the various subsidiaries within the Berjaya Group.  Among its key areas of focus are supporting educational programs and initiatives for underprivileged children, outreach programs for poor communities, providing aid to health related causes, conserving and protecting the environment, supporting Malaysian performing arts and culture, animal-related causes, promoting staff well-being, and providing international humanitarian aid.  In the future, the organization plans to promote sustainability by engaging with NGOs and charitable organizations on relevant projects.  It also aims to adopt an empowering approach to communities, teaching them skills for self-sufficiency.
The Berjaya Group has implemented an event that celebrates the purpose of these two organizations, Berjaya Founder's Day.  It is an annual affair dedicated to giving back to society. The inaugural version in 2011 raised a total of RM 1.6 million through the efforts of staff.   At the most recent event in 2015, employees raised a whopping RM 20.1 million, donating the sum to 79 charitable organizations through BMF and BCF.
In 2011 Vincent joined The Giving Pledge, a commitment by the world's wealthiest individuals and families to dedicate the majority of their wealth to philanthropy.  He became the first Malaysian to take part in the initiative, which was founded by Bill and Melinda Gates and Warren Buffet.  Vincent said:  "I pledge to donate at least half my wealth for philanthropy, and I hope my public pledge to join this initiative inspires other wealthy Malaysians to join as well."  In 2012 he began to make good on his promise, asserting that he would donate RM 600 million shares to the Better Malaysia Foundation.  BMF will receive RM 10 million annually.  
Commenting on his philanthropy in an interview, Vincent said: "There is only so much money that a person needs for himself and his family and this brings home the sense that when one is blessed with great wealth beyond what is needed, there is a corresponding moral and social responsibility to put the money to good use. For this reason, I have for many years done my part to help the less fortunate and underprivileged through monetary donations and other means of material support."  The millions of people whose lives have been improved by his support are surely grateful for his generosity.
SOURCES
http://www.therichest.com/celebnetworth/celebrity-business/men/vincent-tan-net-worth/
http://www.freemalaysiatoday.com/category/money/2014/04/02/top-10-richest-malaysians-in-2014/
http://success-ent.blogspot.com/2011/11/berjaya-corporation-berhad-10.html
http://www.forbes.com/profile/vincent-tan/
http://www.forbesglobalceoconference.com/en/vincent-tan
http://henryyeap.blogspot.com/2015/03/tan-sri-dato-seri-vincent-tan-chee-yioun.html
http://www.berjaya.com/overview.html
http://success-ent.blogspot.com/2011/11/berjaya-corporation-berhad-10.html
http://www.berjaya.com/overview.html
http://www.forbesglobalceoconference.com/en/vincent-tan
http://www.thesundaily.my/node/132388
http://www.thestar.com.my/news/nation/2012/02/25/vincent-tan-pledges-rm600mil-to-charity/
https://www.devex.com/news/10-philanthropists-from-emerging-markets-who-are-making-a-difference-84212