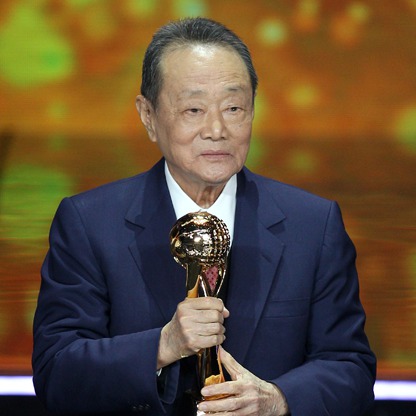 Robert Kuok Hock Nien
BACKGROUND
Robert Kuok Hock Nien is the Chairman of Kerry Group, a Hong Kong-based conglomerate.  Born in 1923 in Johor Bahru, Malaysia, he is the son of a Malaysian mother and a Chinese father who was a commodities trader.   He attended Raffles College in Singapore and graduated in 1942; shortly afterwards World War II broke out, and Malaysia fell under Japanese occupation.  He was assigned to the grains unit of Mitsubishi and worked there until 1945, when WWII ended and his country returned to British rule.  
In 1949 Robert and his two brothers founded Kuok Brothers Sdn Bhd, a firm that traded agricultural commodities.  He made many visits to London to learn more about the sugar industry, and in 1957 decided to make that market the company's focus.  In 1959 he founded the Malaysia Sugar Manufacturing, the country's first sugar refinery.  In the ensuing years, he traded with both capitalist countries and communist nations such as China and Cuba.  In 1961 his firm got a lucky break when it purchased sizable quantities of cheap sugar from India just before prices jumped due to an agricultural crisis.
Over the next decade, Robert invested heavily in sugar refineries and established several partnerships in the industry.  In 1968, he opened the Perlis Plantation, expanding the company's scope to sugar production.  The operation was so successful that he eventually controlled 80% of the Malaysian sugar market and up to 10% of the global sugar market, resulting in the nickname "Sugar King of Asia."  He brought his magic touch to other countries.  He expanded his business in China due to a sugar shortage there and transferred the company's headquarters to Hong Kong.  Further, he developed the firm's business in Indonesia by establishing the largest sugar plantation in the country.
In the next two decades Robert diversified his dealings.  He built Shangri-La, his first hotel; it was so lucrative that he increased his investments in real estate.  He also built branches of the chain across the world, from Australia to Canada to the Philippines.  In 1987, he bought a 30% share in Sucden Kerry International, a French-owned firm that controls a large portion of the global sugar trade.  The company's acquisition of an oil-trading company's shares enabled him to gain a stake in the oil industry for the first time.  In addition, he made investments in news corporations across East Asia, founded freight companies, and got into beverages by establishing ten bottling companies for Coca-Cola.
In 1993, Robert announced his retirement from the Kerry Group so he could dedicate himself to running his own companies.  In 2007 he acquired a 32% stake in Wilmar, a company owned by his nephew Khoon Hong, and integrated most of his agribusiness.  In 2014 he raised $300 million with the Singapore listing of his PACC Offshore Services Holdings, Asia's largest operator of vessels for offshore oil and gas exploration.  His business successes have resulted in a current net worth of $9.2 billion.  In 2015 Forbes named him the richest man in Malaysia, a title he has maintained since 2002.  His achievements have been recognized by his home country — in 1985 he won the Golden Pyramid award, which honored him as the Malaysian Entrepreneur of The Year.
CHARITABLE HISTORY
As a child, Robert Kuok witnessed rampant poverty in his country, which fueled his lifelong desire to address inequality.  In 1970 he launched the nonprofit Kuok Foundation, whose stated mission is "the alleviation of poverty and suffering, the fostering of self-reliance and empowerment of the disadvantaged and underprivileged through education and training, and the promotion of the spirit of caring and sharing."  
The nonprofit's initiatives primarily fall into two categories:  education and social/welfare activities.  More detailed descriptions of each are provided below:
Education
The foundation offers the following:
Study Loans, Grants, and Scholarships

:  These are given to needy and deserving Malaysian students pursuing study at universities, colleges, and polytechnics.   Between 1970 and 2013, total disbursement of study loans, grants and scholarships amounted to nearly RM 219 million.  More than 400 new awards are distributed annually and each year more than 1,000 students renew their awards to continue their education.  Annual study loan and grant amounts average at RM 17 million.  As of the end of 2013, 9,500 recipients have completed their studies.
Full Scholarships for Postgraduate Research

:  From 1979 to 1989, Prestigious Postgraduate Scholarships tenable at renowned universities in the United Kingdom, namely Oxford University and Cambridge University, were given to graduates with First Class Honors degrees.  These scholarships were based on formats similar to the Queen's Scholarships and Rhodes Scholarships.  Under the prestigious postgraduate scholarship scheme, 6 engineers returned from UK with Doctorates in engineering, 5 lawyers obtained Master degrees in Law and one graduate in English obtained an M.Phil in English Literature.  Scholarships for foreign schools have been discontinued and replaced by versions tenable at local Malaysian universities.
Revolving Loan Funds:  

The foundation also established a Revolving Loan Fund at Kolej Tunku Abdul Rahman (called TARC-KF) and one Revolving Loan Fund at the Universiti Sains Malaysia, Penang (called USM-KF).  TARC-KF offers

RM 5,000 per award for students; as of 2012, a total of 948 loans had been distributed.  




USM-KF offered eight awards of RM 4,000 per year; as of 1997, 565 loans and 122 grants had been distributed.  The USM-KF gifts were discontinued after 1998.
Various Educational Advancement Gifts:  

The foundation has donated money to achieve the following goals:

 

improve educational facilities (particularly rural schools); promote scientific research and teaching through the establishment of Professorial Chairs; promote medical research through the sponsorship of the annual Tun Abdul Razak Research Award, given by the Academy of Medicine of Malaysia.
Social and Welfare Activities
While education is the Kuok Foundation's main focus, it also gives funding for social and welfare activities carried out by non-governmental organizations (NGOs) and other nonprofit organizations. Examples of these entities include the following:
Welfare homes for abandoned and neglected children

Welfare homes for homeless, abandoned, and neglected elderly people

Rehabilitation centers for learning-disabled people

Nonprofit hospitals and hospices

Nonprofit hemodialysis centers, stroke centers, cancer centers, etc.

Shelters for abused women and/or children

Societies, associations, and foundations providing information and support to the blind, the deaf, the sick, and the underprivileged

Organizations that provide assistance to victims of natural disasters such as fire, flood, tsunamis, and epidemics
Robert's prioritization of philanthropy can to a large extent be attributed to the two biggest influences in his life — his devoutly Buddhist mother and his brother William, who died resisting colonial rule in Malaysia.  He says if it wasn't for them, he probably "would have been an arrogant middle-class Chinese, only caring about materialism, worldly pleasures and fleshpot pleasures.  When I am tempted, I think of what William went through.  He sacrificed his life trying to help the underprivileged."
SOURCES
http://www.thextraordinary.org/robert-kuok
http://asaskeusahawananks.blogspot.com/2015/10/tan-sri-robert-kuok.html
http://brainprick.com/robert-kuok-from-office-boy-to-the-richest-in-southeast-asia/
http://www.bloomberg.com/news/articles/2013-01-31/billionaire-kuok-says-his-empire-can-last-generations-
http://www.forbes.com/lists/2006/10/ARHN.html
http://jacksonlkh.blogspot.com/2015/03/robert-kuok-hock-nien.html
http://www.forbes.com/profile/robert-kuok/
http://www.bloomberg.com/research/stocks/private/person.asp?personId=39526708&privcapId=1222820&previousCapId=36396533&previousTitle=Kuok%20Brothers%20Sdn.%20Bhd
http://www.forbes.com/sites/forbespr/2015/02/26/robert-kuok-retains-top-spot-on-forbes-malaysia-rich-list/
http://www.kuokfoundation.com/
http://www.kuokfoundation.com/about_intro.html
http://www.kuokfoundation.com/about_activities_edu.html
http://www.kuokfoundation.com/about_activities_social.html