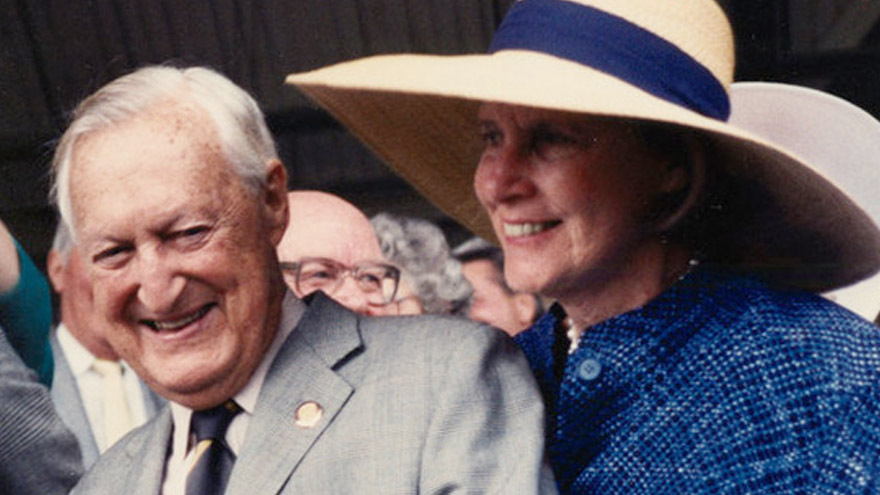 Rachel Lambert (Bunny) Mellon
Amount donated in 2014: Approximately $411.3-million
Her friends say she was happiest working in the garden, but the heiress Bunny Mellon was no backyard dabbler. She was a self-taught and respected horticulturalist who from childhood had studied plant and gardening design.
It would become her life's work, with achievements that included high-profile gardens on the grounds of the White House.
Her financial legacy will be a boon to the study of horticulture. When she died at 103 last year, she left an estimated $411.3-million to nonprofits. Most of that amount, about $401-million, will go to the Gerard B. Lambert Foundation (named for her father) to establish an educational institution for the study of botany and horticulture at her Upperville, Va., estate, Oak Spring Farm.
Ms. Mellon grew up with wealth. Her grandfather, Jordan Lambert, founded Lambert Pharmaceuticals and invented Listerine. He also ignited his granddaughter's lifelong passion.
Accompanying her grandfather on long walks through the family's 400-acre Princeton, N.J., estate, the 8-year-old Ms. Mellon was captivated by the beauty of flowers and plants and began devouring books from her grandfather on the topic.
She soon started creating miniature gardens. By her teens she was creating full-size gardens and at 23 she got her first paid job, to design the garden of the fashion designer Hattie Carnegie.
Her wealth grew significantly when she married her second husband, Paul Mellon, an heir to the Mellon banking fortune, and she spent lavishly to build one of the foremost private collections of rare botanical and horticultural books, prints, and manuscripts, known as Oak Spring Garden Library, which will now become part of the scholarly center her bequest is creating. Some of the roughly 10,000 volumes date back to the 14th century.
Ms. Mellon gained renown in 1961 when her friend, and the first lady, Jacqueline Kennedy invited her to redesign the White House Rose Garden. She also designed the East Garden, finished in 1965 after President Kennedy's assassination and named for Ms. Kennedy.
She went on to build the garden at the John F. Kennedy Presidential Library and Museum, her garden at Oak Spring, and many others.
The new educational center will encompass about 100 acres of land and will include the library and garden. It will be primarily for scholars, but Ms. Mellon's plans include establishing programs to give children hands-on experience in gardening and garden design, digitizing the library collection, and creating conference spaces.
"This isn't just about having beautiful gardens," says Alexander Forger, Ms. Mellon's lawyer and a longtime friend. "She wanted this to contribute to sustainability, urban gardening, and developing ways to grow vegetables, wheat, herbs more economically and safely."
Ms. Mellon also bequeathed a roughly $9.5-million collection of jewelry by the French designer Jean Michel Schlumberger to the Virginia Museum of Fine Arts and a $375,000 collection of botanical china to be split between that institution and the Museum of Fine Arts, Boston.
She also left a $200,000 cash gift to the Brain Trauma Foundation. Ms. Mellon had given the organization at least $1.2-million over the past 12 years in honor of her daughter, Eliza Lloyd Moore, who sustained severe head trauma after being hit by a van. Ms. Moore never recovered and died in 2008.