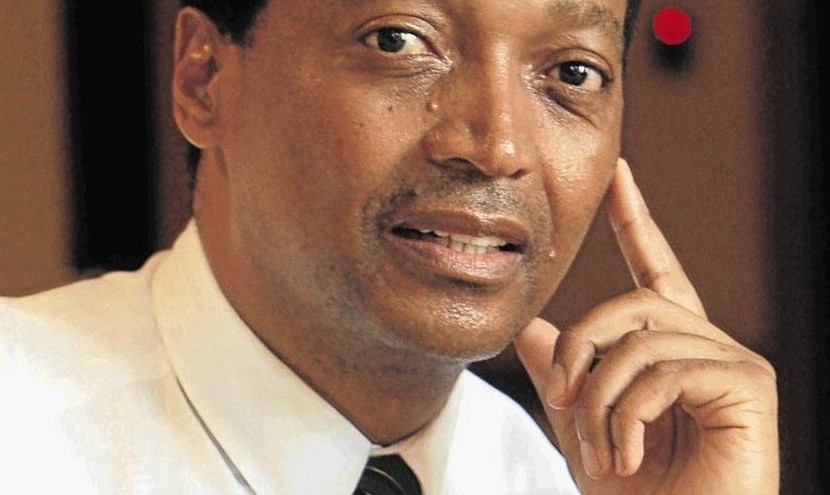 Patrick Motsepe 1
Patrick Tlhopane Motsepe is the Chairman of African Rainbow Minerals Limited. Born in 1962 in Soweto, South Africa, he grew up in the Apartheid era; however, he experienced better conditions than many of his peers as his father was a successful liquor distributor. He worked at the family's store and beer hall, selling daily goods to mine workers and becoming educated in business management. He later obtained a Bachelor's degree in law from the University of Swaziland and a law degree from the University of the Witwatersrand, Johannesburg, becoming one of only a few black students at the latter.
In 1988 Patrick joined the law firm of Bowman Gilfillan, where he specialized in mining and business law. He did a brief side stint as a visiting attorney with the U.S. firm McGuire, Woods, Battle & Booth from 1991–92. He then became Bowman Gilfillan's first black partner in 1994, the same year that Nelson Mandela became South Africa's first black President. Shortly afterwards the firm reorganized to accommodate the new post-Apartheid world, and Patrick left to pursue entrepreneurship. Specifically, he sought to apply his business savvy to the mining industry.
In 1994 he launched Future Mining, a mine services company. This was facilitated by South Africa's Black Economic Empowerment (BEE) laws, which required firms to have a minimum 26% black ownership before a mining license would be granted. In 1997 he founded African Rainbow Minerals (ARM). The following year its prospects were boosted when he obtained a number of marginal shafts at Vaal Reefs on favorable financial terms, then purchased other marginal shafts owned by AngloGold.
In the early 2000s, Patrick began launching a number of companies that would help build his business into a conglomerate. In 2003 ARM merged with Harmony, at the time the 12th largest gold miner globally, with three mining operations in South Africa alone. Harmony focuses on buying mature gold mines with lagging production and turning them into low-cost, high-productivity mines. He also acquired Anglovaal Mining. Patrick became Chairman of the new ARM in 2004, and by 2006 the firm had broadened its scope to include interests in gold, copper, iron, platinum group metals, and coal.
Patrick's business was a huge triumph, becoming listed on the stock exchange in 2002. His success resulted in him becoming South Africa's first black billionaire. According to Forbes, he is specifically worth $1.1 billion, making him the fifth richest person in South Africa and the 22nd richest person on the continent. Beyond his stake in ARM, he owns a 51% stake in the Mamelodi Sundowns, one of South Africa's biggest soccer teams (serving as its President), and has a stake in Sanlam, one of its top financial firms.
Patrick's achievements have also led to many honors. In 2002 he was named South Africa's "Business Leader of the Year" by Ernst & Young, and received "South Africa's Best Entrepreneur Award." In 2004 he was ranked #39th on the "Top 100 Great South Africans" list. He holds many important posts, including the Presidency of the South African Chamber of Mines. He is truly a role model for businesspeople in his country.
CHARITABLE HISTORY
Patrick Motsepe has used his tremendous wealth to benefit the lives of others. In 1999 he and his wife Precious founded the Motsepe Foundation, which financially supports initiatives that improve the social and economic conditions of poor, unemployed, and marginalized communities. It accomplishes this task largely through partnerships with private, public, community-based, religious, and faith-based organizations.

The foundation primarily offers funding for programs in three areas, described below.

Economic Empowerment
The foundation supports projects that emphasize economic empowerment ultimately leading to financial independence. It aims to provide assistance that enables South Africa's citizens to help themselves where possible, so that relief from poverty is long-term rather than short-lived. A key focus of its efforts is women, who often control household finances. Projects specific to this group include the following:
The Women's Desk: This was established to advance the representation of women in the economic, political, and social spheres and to empower women to lead active, productive, and successful lives. It works by creating synergies between various women's groups to establish a center of knowledge, resources, and research.
The Little Black Book for Women: This is a directory that connects the women of South Africa, both in rural and urban areas, by providing them with information, services, and resources. Specific examples of features include details of available social services, self-defense programs, and healthy lifestyle tips.
Gender Responsive Budget Initiatives (GRBI): This program is led by the Women's Desk in collaboration with the Department of Women, Children, and People with Disabilities (DWPD). With technical assistance from the United Nations' Capital Development Fund (UNCDF) it seeks to increase the capacity of the government and organizations to review, analyze, and prepare plans and budgets that ensure that the needs of women are equally and adequately addressed.
Education and Leadership
The foundation believes that the key to breaking the cycle of poverty in South Africa is education. As such, it aims to address well-publicized problems such as school building infrastructure problems, qualified teacher shortages, limited classroom resources, and low learning standards. It posits that the government alone cannot fix all of these issues.
Sports
The foundation believes that the values taught in sports, such as commitment and teamwork, are the backbone of a nation's success; accordingly, it lends its support to various initiatives. For example, it founded the Sanlam Kay Motsepe Cup, a youth soccer tournament that has touched the lives of over 140,000 children of high school age. The school that wins the event receives R1,000,000 (about $100,000) in prize money, which is used to purchase necessary teaching aids and equipment.
Beyond these specific areas, the Motsepe Foundation also makes donations to worthy causes as appropriate, such as natural disasters or public health crises. For example, in 2014 it made a prominent gift of $1 million to the Ebola Fund in the Republic of Guinea to assist the country in its fight against the spread of the virus. The money was to be used to aid with clinical management, social mobilization, and medical coordination. Speaking on Ebola, Patrick said that "It is a global issue which requires the global community to work together and bring an end to the disease."
In 2013 Patrick made his commitment to charity ironclad when he became the first African to sign on to the Giving Pledge. Founded by Bill Gates and Warren Buffett, it is a commitment by the world's wealthiest individuals to dedicate the majority of their wealth to philanthropy. Patrick announced his plan to give away half the income generated from assets owned by his family to its foundation. Speaking on philanthropy in general, Patrick says: "This selfless and compassionate characteristic is part of the age-old African culture of giving and caring for your neighbor and other members of your community. In South Africa it is embodied in the spirit and tradition of Ubuntu/Botho, in terms of which your well-being, happiness, and success is dependent upon and influenced by the wellbeing, happiness, and success of others." His generous contributions have certainly brought happiness to countless individuals.