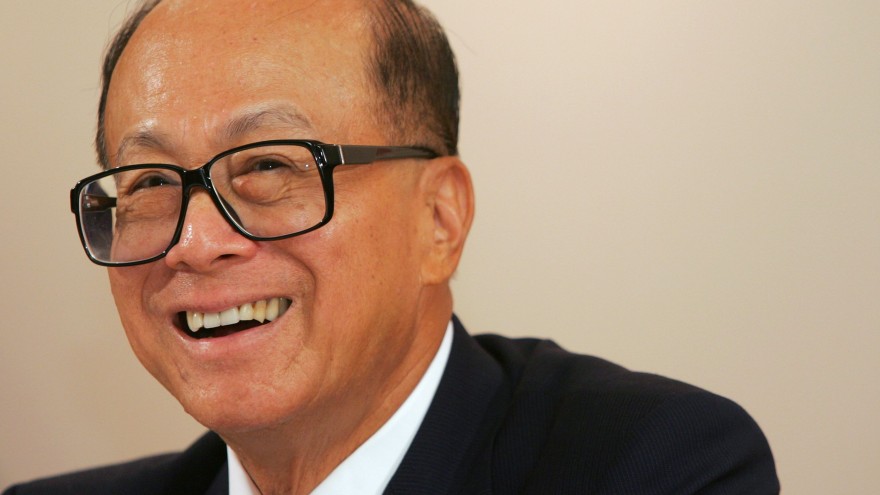 Li Ka-shing
Philanthropy is Li Ka-shing's biggest achievement
He built one of the world's greatest business empires, but the achievement Hong Kong billionaire Li Ka-shing is most proud of is his charitable foundation. Since its establishment in 1980 the foundation has donated $2.2 billion to support healthcare and education initiatives.
Often referred to as "superman" in Hong Kong because of his business achievements, Li's early life shows no resemblance to any superhero status.
Born in 1928, the young Li and his family fled mainland China for Hong Kong in 1940 after the Japanese dropped bombs on his hometown. Life remained tough for a long time. Li's father died of tuberculosis soon after their arrival and he, too, was infected. He quit school at the age of 12 and went to work in a watch-strap factory.
It was a full-time job in a plastics trading company at the age of 14 that set him on his business path for life. In 1950 he started his own business, Cheung Kong Industries, making plastic products. The rest is history, with Li becoming one of the richest men in the world. Cheung Kong expanded by, among others, acquiring the British owned local trading company Hutchison Whampoa in 1979.
By December 2015 Forbes estimated Li's wealth at $33.6 billion. His business interests cover from real estate to retail, from shipping to the Internet, and from electricity to telecommunications in 52 countries. Earlier in 2015 he announced a restructuring of his assets and created two new Hong Kong listed companies: CK Hutchison Holdings, of which he is chairman, and CK Property.
Giving away some of his profits to charitable causes had been a part of Li's business practice right from the start. But it was only in 1980 that he set up the Li Ka Shing Foundation (LKSF).
"Giving had been part of my life ever since my companies had achieved enduring success. But, I was worked over by thoughts about what would happen if times would turn bad and cash would be tight and scarce, and by the fact that without a system and an independent entity that implements it, this philanthropic work could not develop and grow on its own.
"Running a business is difficult work and takes a lot of time and attention, and there are additionally many temptations which could lead one away from the hard work that philanthropy requires. Then, early in the morning, I had the thought of creating the Foundation," Li told The Globe and Mail in 2011.
Li is known for referring to his foundation as his third son, after his two real-life sons. In his statement on the official website of LKSF, he writes that he not only dedicated all his assets to this son, but also his heart.
LKSF is active primarily in the fields of healthcare and education. Its first donation in 1981 resulted in the founding of the Shantou University near Li's hometown of Chaozhou. Through the years, the foundation has given $690 million to this university.
Over 11,000 education institutions received support from LKSF, with 81,000 scholarships awarded worldwide. Some of the biggest donations to universities include $128 million to the Faculty of Medicine of the University of Hong Kong, and $90 million to the Li Ka-shing Center for Learning and Knowledge at Stanford University, which is also the headquarters for the Stanford University School of Medicine.
In March 2007 LKSF contributed $100 million to the Lee Kuan Yew School of Public Policy in the National University of Singapore, while more recently its $130 million donation to Israel's leading engineering university, the Technion, was the biggest ever given to an academic institution in this country.
Medical care and research are close to Li's heart. Not only did his father die too young from tuberculosis, but his wife of 27 years died of a heart attack at the age of 56 in 1990. He never remarried.
In the field of healthcare LKSF has served more than 17 million patients through various projects and supported about one thousand medical institutions. Free hospice services have been provided to 180,000 patients in 42 hospices.
Li has pledged to donate one-third of his assets to support philanthropic projects and has called on other Asian entrepreneurs to do the same.
LKSF is operated through two international offices, one in Hong Kong and one in Canada. Asked whether this provides particular points of tension or opportunities for dialogue and collaboration, Li answered as follow:
"The main areas of focus of the activities of the two foundations – education and health care – are meant to span and bridge differences. Knowledge and education can change a young person's destiny, health care promotes and restores human dignity, and medical research makes possible the new and better forms of care."
That is why he believes his colleagues and his family will remain as committed as he is to serve the foundation's causes, "reshaping destiny through education and seeking efficient initiatives that can forever help those in need".
Sources:
http://www.therichest.com/rich-list/most-influential/the-worlds-biggest-givers/
Craine, Anthony G. Li Kan-shing, Chinese entrepreneur and philanthropist. Retrieved from http://www.britannica.com/biography/Li-Ka-shing
https://en.wikipedia.org/wiki/Li_Ka-shing
Li Ka Shing Foundation Founder. Retrieved from http://www.lksf.org/our-founder/
http://www.forbes.com/profile/li-ka-shing/
http://www.forbes.com/forbes/2012/0326/billionaires-12-feature-hong-kong-li-ka-shing-horizon-investments-midas-touch.html
Why billionaire Li Ka Shing thinks of his charity as a 'third son'. (2011, October 28). The Globe and Mail. Retrieved from http://www.theglobeandmail.com/life/giving/why-billionaire-li-ka-shing-