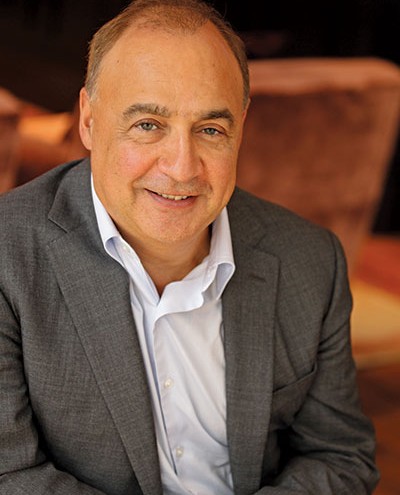 Leonard Blavatnik
Britain's richest is American, but gives to charities globally
He was Britain's richest man in 2015, but Leonard Blavatnik isn't even British. The Ukraine-born American citizen with an estimated net worth of $18.5 billion does however prefer living in London, where he owns a £200 million (about $300 million) home in Kensington Palace Gardens.
When it comes to donating some of his fortune to philanthropic purposes, the billionaire also known as Len, isn't picky about where the money goes. His beneficiaries, many of them universities, are spread across the world. Last year he gave £59 million (about $90 million) to charitable causes, according to the Sunday Times Giving List 2015.
Blavatnik was born to a Jewish family in 1957. He grew up in Russia and immigrated to the United States with his family in 1978 before he was able to complete a degree at the Moscow State University of Railway Engineering. Just over ten years later he was in possession of a Masters in computer science from Columbia University and an MBA from Harvard Business School.
The industrialist's rise to riches began in 1986 when he founded Access Industries, an international conglomerate with strategic investments in the United States, Europe and South America. According to Forbes, he made timely investments in post-Soviet aluminium and energy companies.
Blavatnik also owns a significant stake in LyondellBasell Industries, the world's third-largest independent chemical company, and the Warner Music Group. His biggest break is considered to be the selling of his 12.5% stake in the Russian oil company TNK-BP to Rosneft for $7 billion in 2013.
An active philanthropist, Blavatnik and his Blavatnik Family Foundation, as well as the Access companies, have supported many cultural and charity institutions over the years. The arts and academic institutions seem to be his favorite beneficiaries.
Major art and cultural institutions like the British Museum, Tate Modern, the Royal Opera House, the National Gallery of Art, the Metropolitan Museum of Art, the National Portrait Gallery, the Royal Academy of Art, and the Prince's Trust have come to rely on Blavatnik's generous donations over the years.
In 2007, the billionaire created the New York Academy of Sciences Blavatnik Awards for Young Scientists. The program was expanded to a national level in 2014.
The Oxford University can thank Blavatnik for £75 million in 2010 to establish the Blavatnik School of Government, one of the largest philanthropic gifts in the university's long history.
Harvard got a little less in 2013 when Blavatnik gave them $50 million to launch a major initiative to expedite the development of basic science discoveries into new breakthrough therapies for patients and cures for disease.
"By partnering with Harvard's world-class biomedical research division, I am delighted to help accelerate the development of new therapies. Moreover, by increasing the collaborative efforts between Harvard Business School and Harvard's scientific community, we will empower the next
generation of life science entrepreneurs and provide a further catalyst for innovation and research development," is how Blavatnik commented on the donation.
Also in 2013, scientists at Yale University got a boost of $10 million from the Blavatnik Family Foundation to test a new theory of inflammation and chronic disease.
And on the other side of the globe, Blavatnik donated $20 million to the Tel Aviv University in 2014 to launch the Blavatnik Initiative, a multi-year program committed to the advancement of interdisciplinary scientific research, discovery, and the development of the university.
The Blavatnik Family Foundation's involvement in charitable causes in Israel is not only limited to university research. It also sponsors a food bank and warehouse in Kiryat Malakhi, which sends monthly food shipments to 5,000 poor families in 25 Israeli cities. Just before Jewish holidays the food packages go to a total of 30,000 families in 73 cities, towns and villages.
Something that is particularly close to the industrialist's heart, is the non-profit Blavatnik Archive Foundation. The archive is dedicated to the preservation and dissemination of primary resources that contribute to the study of 20th century Jewish and world history, especially WWI and WWII. The archive holds approximately 90,000 physical and digital assets. It is working to fulfill a vision whereby its entire collection is fully accessible online to academics and the general public.
Despite personal appearances to show support for the events and programs he sponsors, Blavatnik is a man of few words. A good friend, the English author of historical books Simon Sebag Montefiore, said the billionaire is "down-to-earth" for his position. "He's very unusual for a businessman. He never talks about himself, or his business, or his money, really," is how Sebag Montefiore summed his friend up.
Sources:
https://en.wikipedia.org/wiki/Leonard_Blavatnik
Fontevecchia, Agustino. (2013, June 3). Billionaire Len Blavatnik pledges $30m to fund young scientists and keep innovation in the US. Forbes Magazine. Retrieved from http://www.forbes.com/sites/afontevecchia/2013/06/03/billionaire-len-blavatnik-pledges-30m-to-fund-young-scientists-and-keep-innovation-in-the-u-s/
$50m gift from Blavatnik Family Foundation. Harvard Gazette. Retrieved from http://news.harvard.edu/gazette/story/2013/04/blavatnik_accelerator_donation/
Dudson, Helen. (2013, April 8). Blavatnik Family Foundation to provide $10 million grant for immunobiology research at Yale. Retrieved from http://news.yale.edu/2013/04/08/blavatnik-family-foundation-provide-10-million-grant-immunobiology-research-yale
http://www.wealthx.com/billionaires/leonard-valentinovich-blavatnik/
http://www.blavatnikarchive.org/mission-history/
http://www.accessindustries.com/about/len-blavatnik/