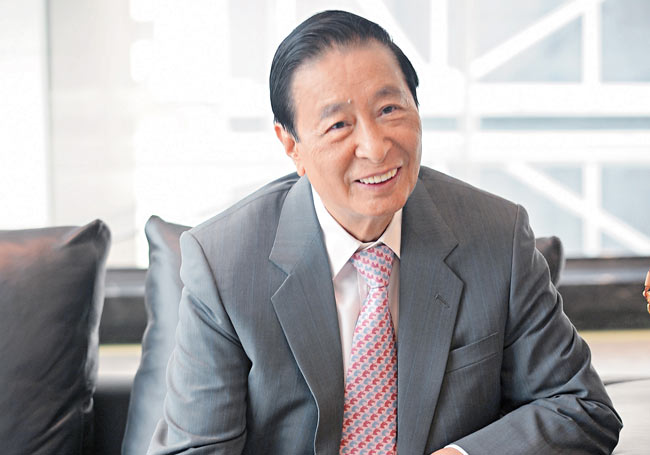 Lee Shau-kee
Billionaire Lee Shau-kee retires from business, but not from philanthropy
In 2014 Hong Kong billionaire Lee Shau-kee announced that he would be retiring from his profitable business career, but that, true to style, he would focus his remaining energy on his ongoing philanthropic work.
Previously ranked fourth in Forbes' listing of the world's richest men, the magazine estimated Lee's wealth to be $24.4 billion at the end of 2015. Born in Southern China in 1928, a young Lee first moved to Hong Kong in 1948 where he became a pioneer in the real estate industry.
By the late 1990s the patriarch of Henderson Land Development had not only become known for his ability to make wise investments, but also earned a reputation for his ethics and people skills. It has earned him the nickname of 'Hong Kong's Buffet'. His significant charitable contributions have been instrumental in the creation and success of many major educational and community initiatives in Hong Kong, mainland China and elsewhere.
Henderson Land Development is a property conglomerate with interests in properties, hotels, restaurants and internet services. Besides his investments in Hong Kong's International Financial Center, Lee has also been involved in various mainland projects including the Henderson Metropolitan along Nanjing West Road in Shanghai.
Although he stepped down as chairman and managing director of Henderson Investment Limited in July 2015, he remains chairman of Hong Kong and China Gas, the vice-chairman of Sun Hung Kai Properties and non-executive director of Hong Kong Ferry and Miramar Hotel.
When he announced his gradual retirement in 2014, Lee said that he would focus more on charitable projects in mainland China and Hong Kong. He told delegates at a seminar that he was old and wanted to share his wealth through charity.
Lee has provided scholarships, building funds and other generous support to colleges and universities around the world through his Lee Shau Kee Foundation. He also established the Pei Hua Education Foundation in 1982. The latter took a visionary approach to enhancing human resources and providing educational and training opportunities in mainland China.
In late 2005, the Lee Shau Kee Foundation donated RMB330 million (about $51 million) to initiate mainland China's largest charity-based farmer training program. The Warmth Project provided vocational training for one million farmers and ten thousand village doctors. In 2009 the foundation gave a further RMB74 million to Guangxi and Ningxia provinces to train another 1000,000 farmers and to build 6,000 water wells for families suffering from the drought in Ninxia.
On the formal education front, the Chinese University of Hong Kong announced in 2005 that it received HK$50 million (about $6.4 million) from the Lee Shau Kee Foundation to support its pursuit of academic excellence and for the establishment of scholarships.
"I always believe quality education is essential for the development of the society. The return on investment can be multiple and even immeasurable," Lee said at the time of making the donation.
In 2007 it was the turn of the University of Hong Kong to receive HK$500 million (about $65 million) from the Lee Shau Kee Foundation in support of its institutional advancement. Half of the donation was endowed for student scholarships, and the remainder towards campus development.
In the same year the Hong Kong University of Science and Technology (HKUST) received HK$400 million (about $52 million) from the Lee Shau Kee Foundation to show its support to the university's development as a global leader in education and research.
"HKUST aspires to become a world premier intellectual center. I hope my donation will help the university realize this goal so that more talented individuals will have the opportunities to receive its quality education. Eventually
this will benefit the whole community," Lee said.
Henderson Land is however not only involved in charitable work through the Lee Shau Kee Foundation. It is a dedicated corporate citizen in its own right. According to its website, it considers and acts "on the social, economic and environmental impacts of our business and contribute to community causes through education and community work, arts and culture, sustainability and environmental education, and mega events".
The reason for Lee's involvement in philanthropy became clear in 2011 at an awards dinner arranged by Forbes Asia for their Best Under A Billion list for that year. Speaking at the dinner, Lee gave the audience some wealth tips. One of the most important was to not let money become a controlling factor in life and make you a slave to it.
One way to avoid that, he said, was philanthropy. Giving away money to the right cause, with a leveraged effect and your own involvement in how it is spent, will "give you peace of mind", he was quoted by Forbes.
In recognition of his lifelong devotion to education and his contribution to the community, the HKSAR awarded Lee with its highest honor, the Grand Bauhina Medal, in 2007. He has also been bestowed with honorary doctorates in business administration, social sciences and law, as well as honorary fellowships by local and overseas universities.
Lee Shau-Kee 86
CHAIRMAN, HENDERSON LAND DEVELOPMENT
Donated a 63,000-square-foot plot in January to house the city's largest youth hostel, with 1,250 units in a 25-story building in the New Territories to be finished by 2018. An earlier gift of a 100,000-square-foot plot, also in the New Territories, will become Asia's largest nursing home for the elderly; it's also scheduled for completion in 2018 and will offer 1,400 beds in a 9-story building. His real estate philanthropy works less well on the mainland, where a pledge made with Country Garden Chairman Yeung Kwok Keung to build 10,000 flats right across the border in Guangdong for Hong Kong elderly is on hold due to a lukewarm response.
Sources:
Ng, Joyce and Man-ki, Kwong. (2014, September 25). I'm retiring gradually, Henderson Land Development boss Lee Shau-kee says. South China Morning Post. Retrieved from http://www.scmp.com/news/hong-kong/article/1599788/im-retiring-gradually-henderson-land-development-boss-lee-shau-kee
https://en.wikipedia.org/wiki/Lee_Shau-kee
Henderson Land Development. Executive Directors. Dr the Hon. LEE Shau Kee. Retrieved from http://www.hld.com/en/about/director_excutive_leeshaukee.shtml
Lee Shau Kee Scholarships. Retrieved from http://www.scholarships.hku.hk/Scholarships/detail/170
Flannery, Russell. (2011, November 14). Wealth Tips From One Of Asia's Richest Entrepreneurs: Lee Shau Kee. Forbes Magazine. Retrieved from http://www.forbes.com/sites/russellflannery/2011/11/14/wealth-tips-from-one-of-asias-richest-entrepreneurs-lee-shau-kee/
Profile Lee Shau Kee. Retrieved from http://www.forbes.com/profile/lee-shau-kee/
Lee Shau Kee Foundation Donates HK$50 Million to the Chinese University. (2005, August 11). Retrieved from