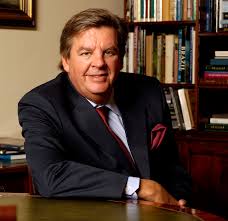 Johann Rupert
Johann Rupert is the founder and Chairman of Richemont.  Born in 1950 in Stellenbosch, South Africa, he is the eldest son of Anton Rupert, who built the industrial conglomerate Rembrandt Group.  He attended the University of Stellenbosch, studying economics and company law, but ultimately left to embark on a business career.  It started with a two-year apprenticeship at Chase Manhattan, followed by a three-year stint at Lazard Freres.  
In 1979 he returned to South Africa, where he used his experience to lead the international arm of Rand Merchant Bank (RMB) and founded Small Business Development Corporation (SBDC).  In 1984, after the merger of RMB and Rand Consolidated Investments, he departed to join Rembrandt Group.  Over the next two decades, he helped diversify the firm from its base in tobacco and alcohol products.  This began in 1988, when he founded a spinoff of the company, Compagnie Financiere Richemont (Richemont).  A Swiss luxury goods provider, it oversees brands such as Vacheron Constantin, Cartier, Alfred Dunhill, and Chloé.  The same year he was appointed Non-Executive Director of Rothmans International.  
In 1991 Johann was named Chairman of Rembrandt Group.  In 1993 he split the group's tobacco and luxury goods operations between two subsidiaries, with Vendôme Luxury Group overseeing the watch, leather goods, and apparel interests.  In 1994 he played a key role in the establishment of Vodacom, the leading cellular communication specialist group in Africa, as well as Tracker Network, which specialized in stolen vehicle recovery systems.  In 1998 he realigned Vendôme into the Richemont group with a buyout of the minority interest shareholders and oversaw its steady growth with the acquisition of brands such as Azzedine Alaïa, Roger Dubuis, and Van Cleef & Arpels.
In 2000 Johann restructured Rembrandt Group and formed Remgro Limited and VenFin Limited.  He was also appointed Chairman and Chief Executive Officer of Richemont.  Four years later he resigned as CEO after leading a 15-month turnaround of the company.  In 2007 he entered into a 50/50 joint venture with Polo Ralph Lauren to form the Ralph Lauren Watch and Jewelry Company.  In 2010 Richemont acquired Intenet fashion site Net-a-Porter for $343 million, further diversifying its offerings.
Johann's numerous achievements have lead to a net worth of $5.7 billion, according to Forbes.  This makes him the richest person in South Africa and the fourth richest person on the continent.  He has received many honors for his accomplishments.  These include recognition as one of 200 "Global Leaders of Tomorrow" by the World Economic Forum (1992) and the "Most Influential Business Leader in South Africa" (2000); an Honorary Doctorate in Economics from the University of Stellenbosch (2004); the MANEX Award from Wits Business School (2009); the French Ordre National de la Légion d'Honneur (2009); and a selection as "South Africa's Most Admired Business Leader" (2010).  His many awards are a testament to the fact that he has excelled in his chosen field.
CHARITABLE HISTORY
Johann Rupert has made philanthropy one of his priorities, much as his father did; most of his focus is on environmental efforts.  He is Chairman of the Peace Parks Foundation, whose mission is to establish transfrontier conservation areas (TFCAs – also called "peace parks") in South Africa, regions that are actively protected from ecological harm and shared with the public.  The foundation's work includes the following components:
Advocacy and Political Support:  

The foundation

gathers political will and support for a specific peace park and takes the idea through the decision-making processes required to formalize a memorandum of understanding and ultimately a treaty.
Planning:  

The foundation provides planning support to the TFCAs as a whole, as well as for specific components where an individual country requires additional support.  The plans include motivation documents to support the initial lobbying for political support in and between the partner countries, integrated development plans that serve as the guideline documents for a TFCA's development, protected area or park management plans for the components of a TFCA to ensure alignment and broadened understanding, as well as tourism development plans, strategic business plans, and any other plan deemed necessary to attain the objectives of the TFCA.
Project Management:  

The foundation

assists the TFCA partner countries in identifying key projects, designing project plans, and securing the necessary funds required to implement the project.  It also supports the appointment of technical advisers to the partner countries for specific projects. The foundation often acts as a project implementation agent for the TFCA partner countries and, in specific circumstances, assists with project implementation, such as contractual project execution and implementation. The projects are designed to create self-sufficiency.
Fundraising:  

The foundation aims to ensure that sufficient funding is available for the operational components of TFCA development, as well as for projects deemed crucial to attain the objectives of the TFCA.  It has been successful in securing substantive funding for South Africa's TFCAs and in unlocking further and major support from international donor agencies. A core objective of the work is to marshal limited resources to optimize the delivery pipeline, thus ensuring that 100% of donor funding flows through to the projects on the ground.
Financial Management:  

The professional financial management of the foundation and its reputation for the highest standards of corporate governance have earned it the trust and support of public and private international financial institutions and governments alike, as an advisory, facilitation, management, and administrative partner.  The foundation is transparent in accounting for the flow of funds from donors to the projects they have elected to support.
Information Systems:  

Cutting-edge technology guides Peace Parks Foundation's approach to planning. The extensive Geographic Information System (GIS) capability it developed supports planning, monitoring, and evaluation of its various programs and projects. Field staff and students at the Southern African Wildlife College are also trained to use GIS and GPS, as well as monitoring and evaluation systems.
Training Towards Sustainability:

 In order to engender the sustainability of the parks, the foundation has been supporting training at two colleges since their inception. The SA College for Tourism was established in 2001 and every year trains 90 young women from impoverished backgrounds on a year-long course that focuses exclusively on developing skills in the hospitality service. The students are then able to return home and find employment within the tourism infrastructure supported by TFCAs.  Since 2010, the college also annually trains 16 trackers at its Tracker Academy with the aim of preserving the traditional skill of tracking.
Community Development:

 The long-term strategic objective is to promote economic growth and development for local communities living adjacent to the TFCAs, based on the sustainable use of natural resources. This will include the provision of alternative livelihoods, the implementation of viable and sustainable community-based agriculture, conservation and tourism-related projects, and the securing business opportunities. The focus is therefore on improving income and food security as tangible community benefits through partnership-based initiatives.
Combating Wildlife Crime:  

The foundation is assisting the region's governments in combating wildlife crime. As a first focus, it is working with Mozambique and South Africa to devise strategies to counter rhino poaching in the Great Limpopo Transfrontier Park and in the Lubombo TFCA. The program merges political support with practical programs aimed at improved law enforcement, joint training for joint operations, and reduced demand, as well as awareness campaigns targeting the judicial system and local communities. Another program focuses on the conservation of southern Africa's leopard.
Disease Control:

 The Hans Hoheisen Wildlife Research Station, developed by the foundation in partnership with the University of Pretoria and Mpumalanga Tourism and Parks Agency, has developed a dedicated platform for local and international researchers to conduct experimental work on animal diseases and related issues at the transfrontier interface between people, livestock, and wildlife.
Today, thanks to this work, South Africa's peace parks represent more than half of the declared conservation estate in the region.  They encompass over one million square kilometers, rivaling the combined landmass of France and Spain.  Johann says that "the protection of nature was natural for my father."  He adds:  "We are doing this so that the children of our children's children can continue to benefit from what nature has to offer."
Outside of Peace Parks, Johann is a trustee of the South Africa Foundation, Nelson Mandela Children's Fund, and the World Wide Fund for Nature, among others.  Every year he donates his salary to charity, such as the £3.6 million he gifted in 2013.  His many contributions have helped transform numerous lives in his country.
SOURCES
http://www.africansuccess.org/visuFiche.php%3Fid%3D399%26lang%3Den
http://www.businessoffashion.com/community/people/johann-rupert
http://www.therichest.com/celebnetworth/celebrity-business/men/johann-rupert-net-worth/
http://www.4-traders.com/business-leaders/Johann-Rupert-80/biography/
http://www.forbes.com/lists/2011/89/africa-billionaires-11_Johann-Rupert-family_L9DS.html
http://whoswho.co.za/johann-rupert-3865
http://www.forbes.com/profile/johann-rupert/
https://www.richemont.com/corporate-social-responsibility/vision/introduction.html
http://www.peaceparks.org/story.php?pid=1&mid=4
http://www.peaceparks.org/index.php?pid=100&mid=1
http://buzzsouthafrica.com/richest-south-african-johann-rupert/
http://www.peaceparks.org/story.php?pid=1&mid=16
http://www.fin24.com/Companies/Retail/Businessman-donates-salary-to-charity-20120622