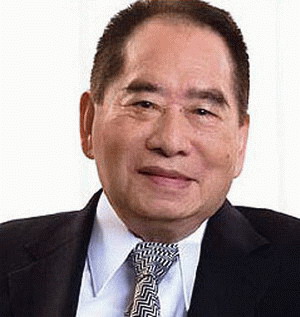 Henry Sy
Henry Sy is richest Filipino, but also biggest giver
At 91 years of age Henry Sy is not only the richest person in the Philippines, he is also the biggest donor to charitable causes in the country.
Among the donations for which Sy recently earned a place on Forbes Asia's list of "Heroes of Philanthropy" is a $112-million donation to an unnamed foundation in December 2014. He also contributed $7-million towards the construction of an eco-friendly building at the De La Salle University in Manila.
Sy's is the inspiring story of a poor Chinese boy moving to the Philippines with his family in search of a better life at the age of 12. In his adopted country he started school from scratch and helped his dad in their neighbourhood shop in Manila, selling basic necessities such as rice and soap.
World War 11 brought many disruptions, but Sy saw a business opportunity after the war by starting a small business selling the discarded shoes of US soldiers. In 1958 he launched his company called SM Prime Holdings and opened his first ShoeMart, the beginning of a $14-billion empire.
Within 15 years the small shoe shop grew into a department store and soon after that the department store grew into a SM Supermall. SM Prime Holdings became Manila's largest and most successful mall development firm.
The SM Group of Companies branched out into the banking industry, construction, property development, and education, to mention a few. Sy went on to become the Chairman of Baco de Oro, and the owner of China Bank, among others.
The budding businessman realized his responsibility to reach out to local communities from early on. "I have always believed that if we do well, we must also do something to help others in society," he told the Philippine Daily Inquirer in 2013.
And so in an effort to support the less fortunate in the communities they serve, Sy and his wife Felicidad found the SM Foundation in 1983.
Right from the start the foundation worked hard to provide opportunities and improve the lives of urban as well as rural communities in the Philippines: from building schools, sending young people to college and training farmers to providing emergency relief after natural disasters.
The SM Scholarship Program has produced over 1,900 graduates to date. Another 1,500 scholars are currently supported in 82 partner colleges and universities in the Philippines.
The SM Foundation also contributes to education by donating and renovating public school buildings in communities where these are needed the most. By the end of 2014, it has donated 67 school buildings with 196 classrooms countrywide.
"We believe that it is better to give one a rod to fish than just dole out fish to them. It's about creating opportunities for self-sufficiency. When our scholars graduate, it is a step towards a better life not only for themselves, but also their families," Sy told a journalist of the Philippine Daily Enquirer when asked why the SM Foundation gives so much money to education.
But health issues are also important to the SM Foundation. It provides free health services such as medical consultation, basic laboratory tests and dental check-ups to many communities. A total of 813,685 people have so far benefited from over 1,000 so-called medical missions in the Philippines.
In 2002 the SM Foundation initiated its Felicidad T. Sy (FTS) Wellness Programs, bringing health services to the communities in which its malls operate. The programs involve the restoration of old health institutions and hospital wards. More than 100 FTS Health Centres have been established thus far.
While education and health are priority, the SM Foundation is also active in the field of agriculture, among other things through the training of small-scale farmers to produce quality fruits and vegetables while at the same time teaching them to become self-sufficient. Almost 3,000 farmers from 53 municipalities attended 12 weekly training sessions in 2014 alone.
Apart from helping the farmers, the SM Foundation is actively supporting the national greening program's goal of planting 1.5 billion trees in the Philippines between 2011 and 2016. To date, 426,186 saplings have been planted under the program.
Filipinos have also come to rely on the SM Foundation in times of emergency, including natural disasters such as Typhoon Yolanda. The foundation received a plaque of recognition from the national Department of Health for its relief operations in the wake of the typhoon.
Asked by the Enquirer what advice Sy would give the scholars benefiting from his foundation, he replied as follows: "I would tell them: You have to have a dream, whether big or small. Then plan, focus, work hard and be very determined to achieve your goals. There is no substitute for hard work. There is no such thing as overnight success or easy money."
But also: "In life and in business, you need to be good-hearted and trustworthy, and to have integrity. This is the way to build long-term relationships."
Sources:
Philippine Daily Enquirer. (2013, August 4). Henry Sy's Second Chance at Schooling. Retrieved from http://lifestyle.inquirer.net/118101/henry-sys-second-chance-at-schooling
Philippine Daily Enquirer. (2013, May 31). Richest Filipino is also biggest philanthropist. Retrieved from http://lifestyle.inquirer.net/106121/richest-filipino-is-also-biggest-philanthropist\
Celebrity Net Worth. (2014, January 13). Henry Sy: How the Richest Person in the Philippines Turned Discarded Shoes Into A $13 Billion Retail Empire. Retrieved from http://www.celebritynetworth.com/articles/celebrity/henry-sy-richest-person-phillipines-turned-discarded-shoes-13-billion-retail-empire/
Forbes Magazine. (2015, August 27). Henry Sy Tops 2015 Forbes Philippines Rich List. Retrieved from http://www.forbes.com/sites/forbespr/2015/09/04/henry-sy-tops-2015-forbes-phillipines-rich-list/