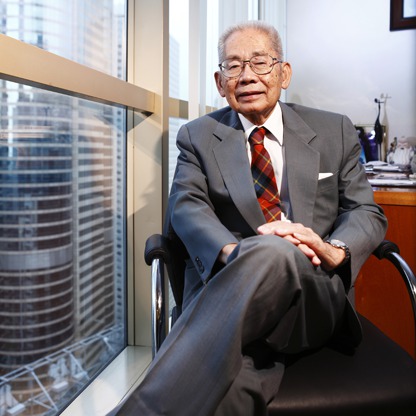 Henry Fong Yun-wah
As one of Hong Kong's oldest rags-to-riches billionaires Henry Fong Yun-wah understands how education can help a family out of poverty. This is precisely why the real estate tycoon and his family have donated more than $64 million to causes including education, medical services and social welfare.
Fong was born in Heyuan in 1924 and moved to Hong Kong with his family when he was only six. Already at this young age he helped his father manage the family business. Over the next more than half a century the Fong family became one of Hong Kong's greatest success stories.
According to Forbes, Fong's net wealth was estimated at $2.3 billion at the end of 2015. He still leads the Hip Shing Hong Group, one of Hong Kong's largest unlisted real estate investment companies, and is also at the helm of the Kam Wah Investment Company. His son David is managing director of Hip Shing Hong.
With the growth of his companies, Fong also reached out to the needy. He is chairman of the Fong Shu Fook Tong Foundation as well as the Fong Family Foundation. The foundations are especially known for their focus on the advancement of education development.
It is said that Fong's generosity took root during his tumultuous childhood. He lost his mother at the tender age of eight and several years later faced the threat of the Japanese invasion. The war forced him to give up his secondary education, but on the upside it led to the start of his business career under his father's guidance.
Nevertheless, Fong regrets not finishing school and fulfilling his dream of becoming a teacher. He has however furthered his education in later years, studying languages and a number of other subjects. He is also an honorary professor of the La Trobe University in Australia and received various honorary degrees from several universities.
It was during the war that Fong learnt about charity. He saw his father daily cooking for refugees and it set him on a lifelong path of philanthropy.
For many years already the Hip Shing Hong Group donates 10% of their annual profits to charity, even in times when business is not as good as always. David Fong had this to say about his family's commitment to philanthropy in an interview with Coutts.
"The 1967 riot… caused both the stock and real estate markets to crash. We were involved in a lot of projects at the time, and we needed to liquidate our assets to repay loans. To my surprise, the shrinking wealth did not discourage my grandfather and father from setting up the foundations and participating in charity work. They learnt that wealth comes and goes, but charitable contributions have a legacy. Nobody – not even banks – can take that away."
To date, Fong and his foundations have supported some 400 education projects, throughout 31 provinces, cities and autonomous regions in Hong Kong, Macau, Taiwan and mainland China. Fong has been instrumental in building kindergartens and schools, as well as being the main sponsor of many additional facilities such as computer centers and auditoriums. Nine tertiary institutions received generous donations from Fong for a range of education projects.
Apart from his interest in education, Fong has also support a number of other charitable causes. He has made donations to hospitals, while in recent years 17 medical facilities have been established in remote and impoverished rural areas thanks to his foundations.
At the same time, Fong's medical research support includes the start of a breast cancer research center as well as research work in AIDS prevention. He is also a keen supporter of China's aerospace program, with donations to the satellite launch centers at Xichang and Jiuquan. Two asteroids have even been named after Fong and his wife – the Fong Yun-wah Star in 1994 and the Fong Tam Yuen Leung Star in 2006.
In 1997, Fong was selected as one of China's Ten Champions in Charity. But apart from donating money, he is also generous with his time. His numerous and diverse public positions include serving the Hong Kong Red Cross as a committee member, the Hong Kong Economic Exchange as chairman, as well as the Wildlife Fund for Nature in Hong Kong as a trustee.
"My father, at the age of 90, keeps track of what Chinese society needs and foresees what will deliver more concrete results. In light of this, the Fong's Family Foundation has identified health care as our next primary focus in mainland China," said David Fong.
And what about the future of the foundations? The young Fong said there is a solid consensus among the family that the missions of the foundations should continue regardless of who the future leader is.
Also, and maybe most importantly: "Families should find new sources of income for their foundations… You need to rejuvenate your foundation like a business and be sensitive to the environment. Doing good deeds require wise planning, advice and adjustment."
Sources:
http://www.forbes.com/profile/fong-yun-wah/
Honorary Doctorate Citation. Retrieved from https://www.cityu.edu.hk/cityu/about/honorary/doc/fong-en.pdf
Citation. Retrieved from http://www.ied.edu.hk/reg/congregation/2010-11/en/doc/Citation_Fong_Eng.pdf
Leading Hong Kong businessman recognized by University of Aberdeen. Retrieved from https://www.abdn.ac.uk/mediareleases/release.php?id=1070
Philanthropy Case Study David Fong. Retrieved from http://philanthropy.coutts.com/en/reports/2015/hong-kong/case-studies/david-fong.html