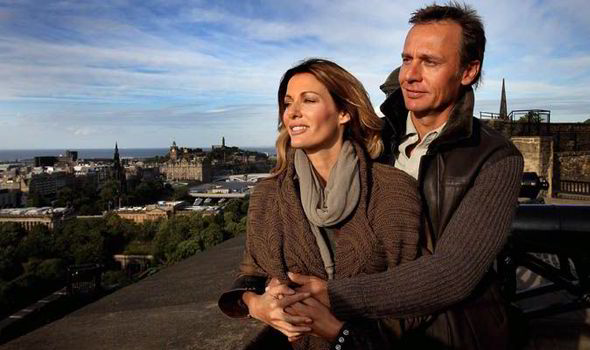 Ernesto & Kirsty Bertarelli
Ernesto and Kirsty Bertarelli are perhaps the world's most glamorous and good-looking billionaire couple. He is the tall, dark and handsome Italian and she is the English rose with a beauty title.
But don't be fooled by all that glamour and glitz. While the Bertarellis work hard and play hard, they are also serious about leaving this world a better and healthier place for the generations coming after them.
Forbes Magazine estimated Ernesto Bertarelli's fortune at $8.1 billion in November 2015. The Italian-born Swiss businessman inherited the biotech giant Serono, maker of the billion-dollar multiple sclerosis drug Rebig, from his father Fabio Bertarelli in 1998. By the time he sold it for $9 billion to Merck in 2007, he and sister Dona had expanded it to $2.4 billion in revenues.
The siblings did not only share the profits with their mother, Maria Iris, but also restructured their charitable foundation to support causes close to their hearts. According to the Sunday Times Giving List for 2015 they gave away £66.7 million (about $100 million) to worthy charities in the preceding year.
Although the original Bertarelli Foundation was established in 1998, a number of changes took place until the current form came into being in 2008. During the first ten years it primarily worked to establish and develop healthcare projects, notably in the field of male and female infertility, assisted reproduction technologies, andrology, genetics, and endocrinology.
In 2008 the Bertarelli Foundation refocused on two particular areas – marine conservation and life sciences. The reason, the family said, was that both are of historic significance to them. On the one hand Serano was at the forefront of healthcare research, while on the other hand they all have a passion for the world's oceans.
Ernesto Bertarelli's love for the ocean is evident in his involvement in the yachting syndicate Team Alinghi, which he founded in 2000. They went on to win the prestigious America's Cup in both 2003 and 2007. The billionaire personally served as navigator in 2003 and as an afterguard and runner in 2007.
Ernesto and Kirsty Bertarelli are also owners of the $100 million super yacht Vava II on which they spend as much time as possible, no doubt taking them to some of the marine areas they are helping to preserve.
The Bertarelli Foundation sponsors the world's largest marine reserve in the Chagos Islands in the Indian Ocean. Covering a protected area of some 210,000 sq. miles, the no-take reserve that bans commercial fishing is helping to protect what has been described as the most pristine tropical marine environment on the planet.
In 2012 the Bertarelli Foundation supported the creation of a second marine reserve, this time centered around the Turneffe Atoll in Belize. It is the biggest fragment of the largest and most bio–diverse coral reef system in the Western Hemisphere.
In the area of life sciences the Bertarelli Foundation, building upon its Serano heritage, has partnered with leading academic institutions to initiate life science research with the aim of producing life-changing outcomes.
The foundation has a long-standing relationship with the Ecole Polytechnique Fédérale de Lausanne (EPFL) and with Harvard Medical School, sponsoring scientists at the forefront of their fields. At Harvard the Bertarelli Program in Translational Neuroscience and Neuroengineering has been established with the aim of improving the quality of life of people with neurological disabilities.
As well as its two main areas of focus, the Bertarelli Foundation supports a number of smaller, community projects. These are all of personal importance to one or all of the foundations' chairs and trustees and range from arts festivals to sports foundations. For example, after visiting South Africa in 2009 Kirsty Bertarelli donated funds to a pre-school for the construction of a new classroom.
Kirsty Bertarelli's story isn't exactly one of rags to riches. Her family owns Churchill China, one of the major manufacturers of ceramic products in the UK. Nevertheless, she owes the title of richest women in Britain to her husband's wealth. According to the 2015 Sunday Times Rich List her fortune of $9.45 billion ($14.3 billion) is more than that of Harry Potter author J.K. Rowling and Queen Elizabeth II combined.
After becoming Miss UK and marrying in her twenties before raising three children, Bertarelli temporarily gave up her dreams of becoming a pop star. She did however write a number one song called Black Coffee, sung by the girl band All Saints in 2000.
Despite their wealth, the billionaire couple is trying to give their three children a normal upbringing. They don't even employ a nanny.
"Ernesto and I are always at home, bringing up the kids. Every morning we're preparing breakfast for them, there's pandemonium in the kitchen, alarms going off, who has a rugby match, who has a football match. We cook for them; I know it sounds crazy!" is how Kirsty Bertarelli explained it to a journalist of The Telegraph.
The Bertarelli's don't like talking about their fortune or to mention figures when it comes to their philanthropy. Kirsty Bertarelli doesn't mind talking about her singing career, which she took up again in 2013, and Ernesto Bertarelli has spoken about his yacht races.
Recognition for their work in the field of business and philanthropy has been plenty. Ernesto Bertarelli was awarded the Légion d'Honneur by President Jacques Chirac of France and the Cavaliere di Gran Croce by Carlo Azeglio Ciampi, President of the Italian Republic.
"If you have a life which is adrenaline-charged all week long because you're a powerful CEO, or you have responsibilities and you're committed to the people you look after, it's very difficult on weekends to sit around the garden. So you probably look for something which gives you the same sort of adrenaline buzz," is how Ernesto Bertarelli was once quoted on his love for yachts and sailing.
Sources: