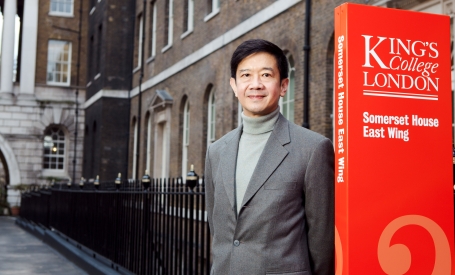 Dickson Poon
Luxury goods billionaire Dickson Poon shines for charity
Think luxury goods, think Sir Dickson Poon – the Hong Kong businessman who owns Harvey Nichols and who likes to be dressed in the very best from Charles Jourdan, Ralph Lauren and Gary Laroche. Fortunately, he also likes sharing his fortune with others.
Unlike so many other "rags-to-riches" Hong Kong billionaires, Poon had a privileged upbringing as the son of a successful watch salesman. He was sent to boarding school in Britain and later graduated with a philosophy degree from Occidental University in California.
Poon is the founder and a substantial shareholder of the Dickson Group, of which he is also executive chairman.
The young graduate started his business career by working as an assistant salesman in one of his father's watch shops. Four years later, in 1980, he founded Dickson Concepts and opened his own watch shop in Hong Kong. Since then the group has expanded to become one of Hong Kong's largest and most profitable retailing and wholesaling enterprises. It owns companies such as Harvey Nichols and S.T. Dupont.
The Dickson Group's profit for the 2014 financial year was HK$154.8 (about $20 million). In his chairman's message in the annual report, Dickson said "the solid performance achieved and our continued strong net cash position of HK$1,011.5 million are a strong testament to the Group's business and management strategies".
Poon is however also a passionate supporter of social and educational causes. His most publicized donation was a personal gift of £20 million (about $30 million) in 2012 to the School of Law at King's College London. It was the largest donation from an individual in the college's history, and the largest ever to a British or European law faculty. The School was renamed the Dickson Poon School of Law in recognition of his generosity.
"My donation reflects a shared enthusiasm with the distinguished Law Faculty at King's College London to set new standards in legal education and research," Poon said at the time.
He added that the donation would be used to expand the faculty, increase student scholarships, create leadership forums, and introduce a new degree. In 2014 he was awarded an Honorary Fellowship of King's College in recognition of his exceptional philanthropic support of education and healthcare worldwide.
One of Poon's earliest donations was to the Hong Kong University to establish the Poon Kam Kai Institute of Management in its School of Business in 1990. The institute is a platform for offering cutting-edge management knowledge for businesses and government agencies in the Asia Pacific region.
In another highly publicized donation, Poon gave £10 million (about $15 million) to St Hugh's College, Oxford to establish the University of Oxford Dickson Poon China Centre in 2010. The center, which was opened by Prince William, Duke of Cambridge, in 2014, for the first time brings together academics from a range of interests related to China. It also provides accommodation for the college's postgraduate students, and is home to the Chinese Collection of the Bodleian Library.
St Hugh's awarded Poon the prestigious Elizabeth Wordsworth Fellowship in March 2014 in recognition of his commitment to support and promote the ethos and academic goals of the college, but the highest recognition came in 2015 when he was knighted for services to business and to charity, particularly higher education.
According to the Hong Kong company list, the Dickson Poon Charitable Foundation Limited was incorporated in August 2011. The company's business was recorded as private guarantee. In its annual report for 2014, the Dickson Group however stated that it made charitable donations amounting to HK$791,000 (about $102,000) in that year alone.
The billionaire is known as a family man, despite the fact that he married three times. It was reported that he made the effort to eat with his elderly parents, who he called his "mentors", a few times a week. He named the Hong Kong University's Management Institute after his late father, Poon Kam Kai, and funded it with $400,000 a year for 10 years, beginning in 1990.
And just as he followed in his father's footsteps, so Poon's daughter Dee is making a name for herself in business as well as philanthropy. Daughter of Poon and Marjorie Yang, Dee is the managing director and chief brand officer of PYE, the retail arm of the Esquel Group.
The mother-daughter team in 2014 announced an ambitious plan to inject environmental protection into the ethos of China's business and consumer community. Dee Poon's following commitment to her customers is sure to make her father proud: "Promising we can be as green and ethical and sustainable as we can be".
Poon himself proclaimed in his annual message to shareholders in 2014 that "the (Dickson) group will continue to maintain a prudent and disciplined approach to all aspects of its business activities".
Sources:
Dickson Poon awarded Honorary Fellowship of King's. (2014, February 13). Retrieved from http://www.kcl.ac.uk/newsevents/news/newsrecords/2014/February/Dickson-Poon-awarded-Honorary-Fellowship-of-Kings-.aspx
https://en.wikipedia.org/wiki/Dickson_Poon
New Years Honours: Sir Dickson Poon CBE. (2015, January 5). Retrieved from http://www.st-hughs.ox.ac.uk/new-years-honours-sir-dickson-poon-cbe/
Vines, Stephen. (2011, October 23). Profile Dickson Poon: A silver spoon and a silver tongue. The Independent. Retrieved from http://www.independent.co.uk/news/business/profile-dickson-poon-a-silver-spoon-and-a-silver-tongue-1098375.html
Vines, Stephen. (2011, October 23). A dedicated follower of fashion. The Independent. Retrieved from http://www.independent.co.uk/news/business/a-dedicated-follower-of-fashion-1343755.html
£20 million gift to Law School. Retrieved from http://alumni.kcl.ac.uk/page.aspx?pid=4920
Dickson Poon Charitable Foundation Limited. Retrieved from http://www.hongkongcompanylist.com/dickson-poon-charitable-foundation-limited-