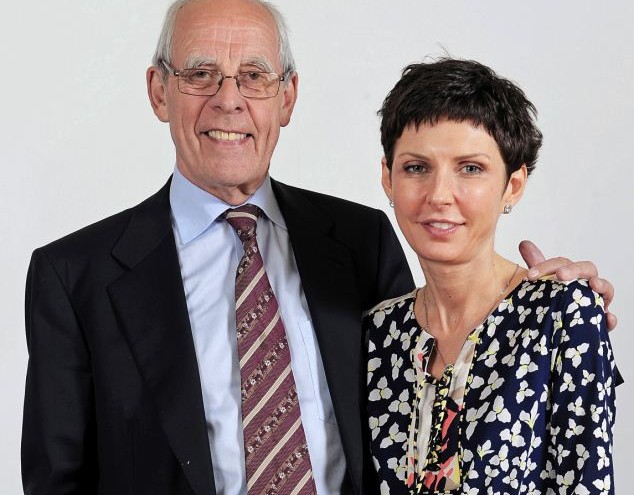 Denise, John and Peter Coates
One year's profits turned the Coats family into major philanthropists
They made a profit of £319 million ($510 million) in one year and took £100 million ($160 million) of that to set up a charitable foundation. Too good to be true? No, that is exactly what the British Coates family did when their online gambling operation bet365 more than doubled its profits in 2013.
According to the 2015 Sunday Times Rich List, Denise, John and Peter Coates are worth an estimated £2.3 billion ($3.7 billion). Their wealth makes them the 44th richest family in Britain.
It's hard to believe that it was only fourteen years ago that Denise Coates started bet365 from a car park in Stoke. She was joined by her brother John as co-CEO, while Peter Coates holds the position of chairman of the online betting business.
No doubt the two Coates children have a lot to thank their father for. Peter Coates was the youngest of a Stoke miner's 14 children, with dreams of playing professional football, but he was "not quite good enough".
Instead Peter Coates became a businessman, founding Stadia Catering in the 1960s and Signal Radio in 1983. He also started Provincial Racing, a bookmaking firm. And although his football playing dreams never come true, he became chairman of Stoke City Football Club.
Already early on it was clear that Denise Coates would follow in her father's footsteps. She started working in the cashiers' department of Provincial Racing while still at school. After obtaining a first class degree in econometrics Denise Coates also trained as an accountant, before taking over the small chain of bookmaking shops.
In 2001 Denise Coates convinced John Coates, who studied law and started his career as an attorney, to join her in launching bet365. The rest is history. Her success was also recognized outside the betting industry in 2011 when she was awarded the Commander of the Order of the British Empire.
The bet365 Foundation, set up as a result of the family's remarkable profits in 2013, supports a wide range of community initiatives. Its core objective is to work through UK-registered charities to provide front-line funding that is used to make a positive difference in people's lives.
By July 2015 the bet365 Foundation had become the largest charity in Britain's West Midlands. According to data from Charity Financials it helped the region to increase its charity revenue by 10.2%.
Some of the first beneficiaries of the bet365 Foundation were Oxfam, Cafod, the Douglas Macmillan Hospice for cancer sufferers in Stoke, as well as relief programs for victims caught in the aftermath of Typhoon Haiyan in the Philippines.
If the cause is convincing, bet365 has proven it is prepared to give. For example, after seeing a presentation by St Joseph's College in Trent Vale, Denise Coates was so impressed by the school's work to help vulnerable young people in Sierra Leone's second city of Bo, that the foundation pledged £230,000 ($345,000) to the college. The money is meant to pay for new classrooms, educational equipment, a generator, a well for fresh water, and even a minibus.
More recently, the bet365 Foundation made a significant donation to University Hospitals of North Midlands Charitable Fund to purchase advanced gynecological equipment. Mark Hackett, chief executive of the hospital, described the contribution as invaluable as the surgical equipment would significantly add to the options available to patients.
Denise Coates said about the donation: "Getting woman the help they need as early as possible is essential for improving their treatment and long-term health. It is a huge privilege to be able to support the excellent work of University Hospitals of North Midlands."
In the latest philanthropic gesture, the University of Bristol Law School, where John Coates studied, announced a £80,000 ($120,000) bursary scheme financed by the bet365 Foundation to support 40 students from low-income backgrounds. Successful applicants will receive a bursary of £2,000 ($3,000) each, providing crucial support in their first year.
John Coates said about the support that the transition from school to academia can be rough for under-represented students: "With the bet365 Foundation bursaries we hope to support students in this character building year and help them lay foundations for future success."
One of the biggest and most appreciated contributions by the bet365 Foundation was when Denise Coates pledged £250,000 ($365,000) towards saving the Wedgwood Collection. This collection has been described as one of the most important industrial archives in the world and a unique record of over 250 years of British art and history.
"We're delighted that the bet365 Foundation has been able to support such a worthwhile campaign so close to home. Having supported causes around the world, it's particularly rewarding that we've been able to support a collection that has such significant support from the local community," Denise Coates said.
Father Peter Coates is also making a personal contribution to charitable causes whenever he can. In 2014 he supported Stoke City goalkeeper Asmir Begovic to raise £50,000 ($80,000) for his charity to encourage more young people to participate in sport, along with a scheme to open a multi-purpose sports facility for children with special needs in his homeland, Bosnia. Peter Coates matched donations of £25,000 ($40,000) raised by Asmir and his supporters to double the takings.
With such a promising and laudable track record after only two years, there is much anticipation as to what the bet365 Foundation will continue to contribute to charitable causes in the years to come.
Sources:
Bowers, Simon. (2014, July 11). Bet365's Denise Coates sets up £100m charity foundation. The Guardian. Retrieved from http://www.theguardian.com/society/2014/jul/11/bet365-denise-coates-charity-foundation
James, Laura. (2015, April 26). Coates family's £2.3 billion fortune 'a good sign' for Stoke City. The Stoke Sentinel. Retrieved from http://www.stokesentinel.co.uk/Coates-family-s-2-3-billion-fortune-good-sign/story-26389165-detail/story.html