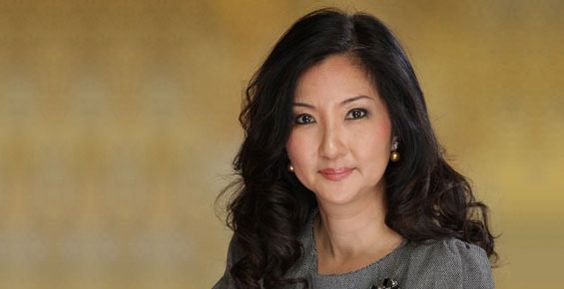 Dato' Ruby Khonh
BACKGROUND
Dato' Ruby Khong (often just called Ruby Khong) is the regional director of China
Overseas Petroleum Corporation, a global petroleum company. She is also the director of
a chain of Himalayan artifact retail shops, and the former President of Kechara Soup
Kitchen. Born in 1963 in Malaysia, she is married with three adult children, Clifford,
Elisa, and Elena. Additional published information about her background is very limited.
CHARITABLE HISTORY
For a long time Ruby Khong lived the life of a carefree socialite, frequently attending
parties and other events. Her only charitable efforts consisted of writing a check for her
causes of interest here and there. However, one year she met Tsem Tulku Rinpoche, the
founder and head of Kechara, a Buddhist organization that provides spiritual and other
support services. His discussion realizing his dream to become a monk inspired her to
"not live a self-indulgent life, but rather do more for others who are in need".
Ruby began volunteering for various charities. One of them was Kechara Soup Kitchen
(KSK), a community action group and NGO launched in 2006 that distributes food, basic
medical aid and counseling to the homeless and urban poor in Malaysia. The
organization serves 250 people each day from a kitchen in Jalan Imbi, but also has its
staff go out into the streets with meals, feeding over 1,000 people each weekend. She
developed such a strong interest in the organization that she began taking on leadership
positions, eventually culminating in her rise to the role of President in 2007.
Under her supervision, KSK increased its service volume from a distribution of 20 food
packets per week to more than 2,400 packets per week nationwide. She also expanded
the nonprofit's scope, opening a number of soup kitchens in Kuala Lumpur and Penang
that offered medical aid, therapy, and job placement for the homeless, in addition to food.
Moreover, she started the Kechara Food Bank, a service that delivers rice, cooking oil,
and other necessities to 152 poor families and smaller charitable homes monthly. She got
this idea from seeing food left on the KSK building's doorsteps by good Samaritans.
Later on, Ruby took her involvement to a higher level. KSK planned the Kechara Forest
Retreat, a holistic center on the outskirts of Pahang built for busy city-dwellers who seek
peace and solace, at a donation of any amount. Ruby moved to the ground site for the
retreat and lived in the area for months, overseeing its construction. Now complete, the
35-acre facility includes among its features an aviary, an herb garden, and the Eco
Village, an environmental-friendly residential hub. It also designs wholesome activities
for residents and their families to participate in, such as meditative walks.
Even as President Ruby continued volunteering, interacting with the poor directly. She
also got her kids involved, and two of them joined her as full-time workers upon
graduation from college. In 2009 she donated RM 1.32 million ($400,000) to KSK, a gift
the charity found extremely helpful. In 2012, she launched KSK's mobile clinic in
conjunction with Yayasan Bakti Nusa. In 2015 she stepped down from her position as
President after eight years, but emphasized that she would still be committed to serving it
in any way she could. She also indicated that she would continue helping the urban poor,
a task she would pursue at a more international level following a brief sabbatical.
Because of her extensive experience, Ruby has been invited to many events to speak
about social work and philanthropy. Past forums where she has shared her knowledge
include the UBS Art of Giving Conference in Kuala Lumpur and Beijing, and the
Philanthropy in Asia Summit. She has also been recognized for her good works. In
2010, Forbes Asia selected her as one of its "Heroes of Philanthropy." In 2013, she was
the recipient of two Bella Awards, Malaysia's program that honors successful women for
their achievements and contributions to society. One of the honors was the Bella Heart
Award, which is given to women who are "bold and brave to stand above all odds and
inspire other women around her". The other was the overall Bella Award, given to
women who have had a strong impact on the world, both locally and internationally.
Ruby comments on her experience with Kechara Soup Kitchen as follows: "My journey
with KSK has been a fulfilling one. There are too many stories to tell and remember but I
can tell you this – everyday, either from KSK's headquarters in Jalan Barat or out on the
streets over the weekend, we are blessed to have volunteers from all sorts of background
serving our city's urban poor and homeless. It warms my heart that there are still a lot of
Malaysians who ignore men-made barriers, determine to come together and make our
less fortunate countrymen to feel a little bit more happy with a  hot pack of food."
SOURCES
http://www.thestar.com.my/lifestyle/features/2013/08/19/a-life-of-service/
http://www.malaysiaresume.com/contribute/dato-ruby-khong
http://ir.chartnexus.com/thestar/press/StarBiz%206.3.10%20-%202.pdf
http://my.asiatatler.com/tatler-list/300list/ruby-khong
http://www.1malaysia.com.my/en/affiliates/dato%E2%80%99-ruby-
khong%E2%80%99s-philantrophic-journey
http://www.tsemrinpoche.com/tsem-tulku-rinpoche/kechara-soup-kitchen-ksk/starbucks-
live-inspire-series-features-dato-ruby-khong-of-kechara-soup-kitchen.html
http://retreat.kechara.com/plans-and-facilities/
http://www.bbc.com/news/business-29986205
http://www.thestar.com.my/lifestyle/features/2013/08/19/a-life-of-service/
http://www.iuemag.com/february2015/is/dato-ruby-khong.php
http://www.uatkl.womenforum.asia/dato-ruby-khong/
http://www.healthtoday.net/malaysia/CoverCelebration/2013/03Mar/AWomanforAllSeas
http://www.kechara.com/soup-kitchen/about-us/our-team/
http://www.tsemrinpoche.com/tsem-tulku-rinpoche/current-affairs/dato-ruby-won-the-
bella-awards.html