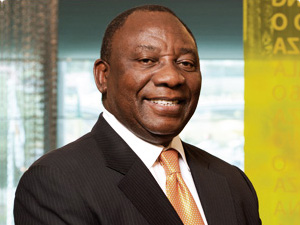 Cyril Ramaphosa
BACKGROUND
Cyril Ramaphosa is the Deputy President of the Republic of South Africa; he is also the founder and former Executive Chairman of Shanduka Holdings. Born in 1952 in Johannesburg, South Africa, he enrolled at the University of the North (now University of Limpopo) in 1972 to study law. While there, he became active in student politics, joining the South African Student Organization (SASO) and the Black People's Convention (BPC). He was detained twice and imprisoned for organizing political rallies and participating in the Soweto student uprising. He later earned a B. Proc from UNISA.

In 1981 Cyril joined the Council of Unions of South Africa as an advisor in its legal department. A year later he became the first General Secretary of the National Union of Mineworkers. In 1991, he was elected Secretary General of the African National Congress (ANC) and subsequently became head of the team that negotiated South Africa's transition to democracy. After the first democratic elections in 1994, he was elected Chairperson of the Constitutional Assembly, which wrote its new constitution.

After losing a battle to become President of the ANC to Thabo Mbeki in 1997, Cyril left politics for the private sector. He became a director of New Africa Investments Limited. In 2001 he founded Shanduka Group, an investment holding company. It invests in a diverse portfolio of listed and unlisted companies, with key holdings in the resources, food, and beverage industries. It has additional holdings in the financial services, energy, telecoms, property, and industrial sectors. Location-wise, the group has holdings in South Africa, Mozambique, Mauritius, Ghana, and Nigeria. Its philosophy involves partnering with firms that have a history of delivering profitable earnings and capable management teams that embrace transformation. Cyril became the Executive Chair of the firm.
Cyril went on to serve in many high-profile positions over the following decade. In 2007 he was appointed Non-Executive Joint Chairman of Mondi, a leading international paper and packaging group, when the company demerged from Anglo American. He served as the Deputy Chairperson of the government's National Planning Commission from 2010 until 2014. He is also the Non-Executive Chairman of Johnnic Holdings, MTN Group Limited, The Bidvest Group, and SASRIA. Internationally, he became the first Deputy Chairperson of Commonwealth Business Council.
Cyril's numerous business accomplishments have led to him attaining a net worth of $450 million, according to Forbes. This makes him the 42nd richest person in Africa. His success has led to him receiving many honors. These include the Olof Palme prize in Stockholm (1987); placement as #34 on a list of the "Top 100 Great South Africans" (2004); recognition as one of the "100 Most Influential People in the World" by Time (2007); and the National Order of the Baobab in Silver by President Jacob Zuma (2009). His political influence continues — in 2012 he was elected Deputy President of the African National Congress; he subsequently stepped down as Chairman of Shanduka Group to avoid conflicts of interest. Many believe he will some day run for President, which, given the amount of respect he has, would not be surprising.
CHARITABLE HISTORY
Cyril Ramaphosa cares very much about the needs of the disadvantaged in his country, which is not surprising given his past political activism. In 2004 he established the Shanduka Foundation to oversee his philanthropic pursuits, committing to spending R100 million ($12 million) on corporate social investments over ten years. The organization exceeded this goal over the period, with a total spend of R167 million. When Shanduka Group was founded, 5% of its shareholding was set aside for two trusts: Fundani, an educational trust, and Mabindu, a small business development trust. These trusts support the entities within the foundation through which it carries out its funding.
Below are summaries of the key initiatives supported by the foundation.
Adopt-a-School Foundation
This foundation aims to fill an important gap in the provision of quality schooling. It mobilizes companies and individuals to support the creation of an environment conducive to learning in disadvantaged schools. As of now, 629 schools have been adopted under the program. Since its inception, it has built over 410 school facilities, creating over 7,400 temporary jobs and benefiting over 805 small and medium-sized businesses.
Cyril Ramaphosa Education Trust
This trust was established in 1996 to provide five bursaries each year to deserving students, enabling them to continue their studies in business-related courses at any accredited South African tertiary institution. The students are given vacation work twice a year, where they have the opportunity to shadow Shanduka executives and professionals to acquire practical experience. There are currently 42 students in the program. A bursary management offering has now been extended to other partner companies with the aim of managing and developing future successful graduates.

Shanduka Black Umbrellas
Shanduka Black Umbrellas (SBU) works with partners in the private sector, government, and civil society to address the low levels of entrepreneurship and high failure rate of 100% black-owned emerging businesses in South Africa. The initiative nurtures qualifying firms in the critical first three years of their existence by providing incubators that have office infrastructure, professional services, and a structured mentorship program at a highly subsidized rate. SBU has incubators in Cape Town, Johannesburg, Pretoria, Durban, Lephalale, Port Elizabeth, Richards Bay, and Mooinooi. In the long-term, SBU plans to open 10 incubators in South Africa to support an average of 50 clients per incubator, with each one remaining with the program for a maximum of three years. It aims to ensure that at least half of the clients joining SBU become sustainable within the three-year period. It also hopes to help the firms generate R3.6 billion in turnover and create 7,300 jobs over a 10-year period.
To facilitate discovery of the firms, the program created Shanduka Blackpages, an annual printed directory of black-owned businesses. It has a corresponding multi-purpose online
platform with advanced functionality designed to suit the needs of buyers and sellers.
Kagiso Shanduka Trust (KST)