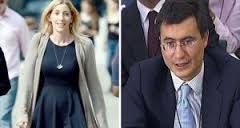 Christopher Hohn & Jamie Cooper-Hohn
They were the golden billionaire couple, famous for their philanthropy through their Children's Investment Fund. But although hedge fund manager Chris Hohn and wife Jamie Cooper-Hohn's fairytale marriage ended, their giving hasn't.
Both Chris and Jamie made it into the top 10 of the Sunday Times Giving List 2015 by donating £91.7 million to charitable causes. Because the amount represents a bigger proportion of her total wealth, Jamie Cooper-Hohn was in position number three, while her ex-husband got seventh place only.
The billionaire couple's independent philanthropic organization, the Children's Investment Fund Foundation (CIFF), saw its assets swell from $3.7 billion to $4.4 billion in 2014. Over the years CIFF received more than $2 billion from Chris Hohn's similarly named hedge fund, the Children's Investment Fund, although it also grew by investing its own money.
Chris Hohn, who became Sir Chris Hohn in 2014 after being appointed Knight Commander of the Order of St Michael and St George, was definitely not born into riches when he came into the world in Surrey, England in 1967. His father was a Jamaican-born car mechanic and his mother a legal secretary. However, he was a brilliant scholar and after obtaining several qualifications with top marks, he excelled as hedge fund manager. It is reported that he established the formulaic charitable link in order to motivate himself.
CIFF, with its headquarters in London and offices in Nairobi and New Delhi, was set up in 2003 with the aim to "demonstrably improve the lives of children living in poverty in developing countries through strategies that have lasting impact".
In an interview during happier times, Jamie Cooper-Hohn was quoted as saying: "One of the things that attracted Chris and I was the shared sense of something that is larger than ourselves and the thrill that we can have a positive impact. We work well together: he is passionate about helping; I'm more pragmatic about it. The aim is that Chris's money will result in long-lasting radical change."
Chris Hohn even used the surname Cooper-Hohn during the marriage, from which four children were born. It is not sure what went wrong, but he begun divorce proceedings in 2013. In December 2014 Jamie Cooper-Hohn was awarded £337 million (about $500 million) by a High Court judge in Britain's largest divorce settlement to date.
Hohn cut the Children's Investment Fund's donations to CIFF after the divorce, but its assets were nevertheless boosted by a net investment return of 19.2% on its portfolio of assets. Overall, CIFF committed $153.8 million to charitable causes in 2014.
CIFF's motto is "children are too important to save one at a time". On its website it states that from the outset it was focused on clear returns for children with a rigorous, business-like approach to philanthropic funding. Jamie Cooper-Hohn managed the foundation herself until 2013.
One of the early program investments was to increase treatment and care for pediatric AIDS in developing countries. Current grants among other things go towards improving children and mother's health and nutrition, children's education, deworming and welfare, and smart ways to slow down and stop climate change.
Examples of the grants CIFF made recently include $50 million to prioritize national deworming programs through its partnership with Uniting to Combat Neglected Tropical Diseases. The foundation also gave $50 million to increase the number of children receiving life-saving antiretroviral therapy in partnership with the US President's Emergency Plan for AIDS relief.
A further $20 million was pledged in response to the Ebola outbreak in West Africa, and in 2013 the foundation said it would spend $787 million over seven years to tackle malnutrition. In partnership with the national government and UNICEF, more than 250,000 children under five years old and suffering from severe acute malnutrition have already been treated in Nigeria.
The Clinton Foundation has listed CIFF among seven organizations from which it received more than $25 million.
Shortly after their divorce, it was reported that Chris Hohn had quietly set up a new charity. The CH Foundation is aimed at helping alleviate poverty and the effects of human trafficking and organized crime on the Indian subcontinent. But Hohn is also returning to his roots by aiming to promote health and education in Jamaica. So far little information is available on the new foundation's donations and activities.
However, fears that CIFF might suffer as a result of the Cooper-Hohn's break-up seem to be unfounded. According to its annual report, "although the foundation no longer relies on donations from Jamie and Sir Chris, they are deeply involved in CIFF's work as active trustees who take a strong personal interest in shaping key investments in CIFF's granting portfolio".
Sources:
Hedge fund boss Chris Hohn's charity for children see assets grow to $4.4 billion. (2015, April 16). The Standard. Retrieved from http://www.standard.co.uk/business/business-news/hedge-fund-boss-chris-hohn-s-charity-for-children-sees-assets-grow-to-44-billion-10181607.html
https://en.wikipedia.org/wiki/Chris_Hohn
https://ciff.org/about-us/who-we-are/
https://en.wikipedia.org/wiki/The_Children%27s_Investment_Fund_Foundation
Dunkley, Jamie. (2015, April 16). Children's Investment Fund Foundation charity hits $4.4bn after strong year. The Independent. Retrieved from http://www.independent.co.uk/news/business/news/childrens-investment-fund-foundation-charity-hits-44bn-after-strong-year-10180094.html