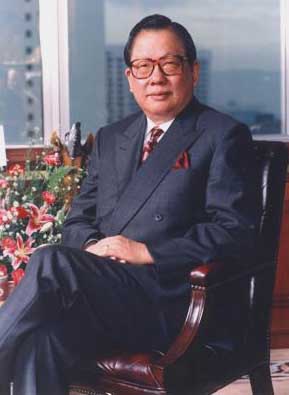 Yeoh Tiong Lay
BACKGROUND
Yeoh Tiong Lay is the Chairman of YTL Corporation.  Born in 1929 in Klang, Malaysia, he is a graduate of Hin Hua High School, but does not appear to have obtained schooling beyond that.  In 1955 he founded YTL (Yeoh Tiong Lay) Corporation, which started out as a small construction firm.  It grew to become the largest conglomerate in Malaysia, generating over 70 percent of its revenue from outside its home country.
In 1984 Yeoh joined YTL's board, and in 1985 he began serving as its Chairman.  The company holds interests in technology, hotels, utilities, construction, and property development, including a 2,000-acre land bank.  It generates $5.3 billion in annual revenues.  While it mostly operates out of Malaysia, it also has divisions in the United Kingdom and Australia.  The company's YTL Power subsidiary owns PowerSeraya, the second-largest power plant in Singapore, as well as the UK's Wessex Water.  
YTL co-owns the Eastern & Oriental Express, the luxury train that runs from Singapore to Thailand.  It also owns the Ritz-Carlton in Kuala Lumpur.  The success of the company has led to Yeoh earning a net worth of $2.3 billion, making him the 7th richest man in Malaysia.  He is married and has seven children, all of whom are in the business; YTL is currently run by his son Francis.  
Very little else is known about Yeoh's career history or background in general; that said, he holds/has held a number of important posts.  These include the following:
Past President and lifetime member of the International Federation of Asian and Western Pacific Contractors Association

Honorary Life President of the Master Builders Association of Malaysia

Co-founder and the first Chairman of the ASEAN Constructors' Federation

Pro-Chancellor of the University of Malaysia Sabah since 2005

Executive member and Vice President of the Malaysia-Japan Economic Association
In addition, Yeoh has received a number of honors as a result of his business success.  These include the following:
An Honorary Doctor of Engineering from Heriot-Watt University (1988)

An Honorary Doctorate in Philosophy (Business Administration) from Universiti Malaysia Sabah (2002)

Appointed a member of the Order of the Rising Sun, Gold Rays with Neck Ribbon by the Emperor of Japan in recognition of his "outstanding contribution towards the economic cooperation and friendship between Japan and Malaysia" (2008)

A Lifetime Achievement Award at the Asia Pacific Entrepreneurship Awards in recognition of his "outstanding entrepreneurial achievements" (2009)
All of this recognition is evidence of the high esteem in which Yeoh is held in Malaysia and around the world.
CHARITABLE HISTORY
Yeoh Tiong Lay has placed a strong emphasis on philanthropic giving.  In 1997 he established the YTL Foundation with the aim of providing educational aid to deserving individuals who would otherwise be denied such opportunities.  Its stated vision is "to take education to the future by providing avenues for teachers, students, and schools to embrace the future of learning."
Initially, the organization primarily awarded scholarships and book prizes to students and their families.  It has since broadened its scope to include the sponsorship of initiatives such as workshops, talks, and conferences that seek to enrich and inspire all those involved in the field of education whether in school, at home, in administration, or in policy-making. It is also developing programs aimed at providing better access to education for all.  A major part of this effort is bridging the digital divide.
Some of the foundations' most high-profile initiatives are described below:
In 2013 the foundation donated £7 million to King's College London to set up a new research-based Centre for Politics, Philosophy & Law.  The department was to be renamed the Yeoh Tiong Lay Centre for Politics, Philosophy & Law in Yeoh's honor.  It is based in the school's Dickson Poon School of Law. The gift was the largest ever from a Malaysian family to any UK university.  It enabled the creation of three new academic posts and 16 Yeoh Tiong Lay LLM scholarships of £30,000 each, with preference given to students from Malaysia.
Professor Sir Rick Trainor, Principal & President of King's College London, said:  "We are hugely honored by and grateful to the Yeoh family for their generosity and vision in creating this new Centre, where we hope to attract the brightest and best legal scholars from all over the world."
In 2015, the foundation announced it would be donating RM 1.5 million to Wisma Hua Zong (Federation of Chinese Associations Malaysia), making it the biggest donor ever for the group.  Earlier, Yeoh had donated RM 5 million for the construction fund of Wisma Hua Zong, prompting the Hua Zong central committee to name its main auditorium after him.  The new gift was in response to a fund shortage.
Yeoh said:  "Through the collective effort of the Chinese community, we will ensure Wisma Hua Zong, a symbol of the unity of the Malaysian Chinese community will be completed and launched soon and that it will serve as an important landmark to signify the Chinese community's foothold and sustainable development in this country."  Hua Zong president Pheng Yin Huah said that he felt touched and grateful for the additional donation, and described Yeoh as a "reputable philanthropist who cares about and often provide assistance to the Chinese community."
In 2015 the foundation donated £10,000 to St John's Hospital, one of the UK's leading almshouses charities and charitable foundations.  The money, which was raised from the first day's revenues at the five-star venue, will go towards Community Grants, which St John's distributes to different charitable projects across the city.  Sue Porto, CEO at St John's, said:  "We are thrilled to receive this donation from the Yeoh family. This donation will make a significant difference to people's lives and enable us to increase the support we offer to local community projects, and other charitable organization. 100% of the money will be distributed through our Community Grants Program."
SOURCES
http://www.bloomberg.com/profiles/people/1431867-tiong-lay-yeoh
http://www.therichest.com/celebnetworth/celebrity-business/men/yeoh-tiong-lay-net-worth/
http://www.forbes.com/profile/yeoh-tiong-lay/
http://www.hw.ac.uk/malaysia/graduates/honorary/dr-yeoh-tiong-lay.htm
http://in.reuters.com/finance/stocks/officerProfile?symbol=YTLS.KL&officerId=274770
http://ytlfoundation.com/v2/about-ytl-foundation/
http://ytlfoundation.com/v2/about-ytl-foundation/mission-vision/
https://www.facebook.com/ytlfoundation/info/?tab=page_info
http://ytlfoundation.com/aboyfromtelukintan/about/
http://www.kcl.ac.uk/newsevents/news/newsrecords/2013/05-May/7-million-gift-establishes-Yeoh-Tiong-Lay-Centre-for-Politics,-Philosophy–Law.aspx
http://www.kcl.ac.uk/law/yeoh-tiong-lay-gift/index.aspx
http://prestige-singapore.com.sg/node/1344  
http://www.malaysianchinesenews.com/2015/05/yeoh-tiong-lay-donates-additional-rm1-5-million-for-wisma-hua-zong-building-fund/
https://www.stjohnsbath.org.uk/about-st-johns/news/post/hotel-group-makes-donation-leading-bath-charity