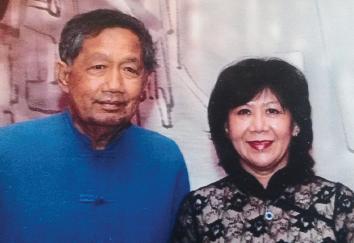 Miliee Kassim/Mohd Kassim
BACKGROUND
Born in 1958, Miliee Kassim is the Executive Director of Harta Setia, a property management company.  Her husband Mohd Kassim Sulong (often called Mohd Kassim) was born in 1936, and is the co-founder of accounting firm Deloitte KassimChan.  Additional published information regarding the backgrounds of either person is limited.  However, LinkedIn does provide the following details regarding Miliee's work history:
Board of Governors

– SRJK(C) Chen Moh (1996 – Present)

Executive Director

– Harta Setia Sdn Bhd (2005 – Present)

Founder Trustee

– Amriteswari Foundation of Malaysia (2005 – Present)

Executive Trustee

– Kassim Chin Humanity Foundation (2009 – Present)

Advisory Council Member

– MyKasih Foundation (2010 – Present)
CHARITABLE HISTORY
The Kassims established the Kassim Chin Humanity Foundation (KCHF) in order to manage their philanthropic efforts.  The foundation places a strong focus on education and has the following objectives and mission (excerpted from its website):
Objective:

 One of the main objectives of the foundation is to dedicate its resources to the setting up of institutions and facilities that provide educational opportunity, healthcare, and social services to the poor and needy regardless of nationality, age, sex, race, or religion. These institutions and facilities will be imbibed with the universal spiritual values of love, compassion, integrity, and mutual understanding. The foundation is convinced that quality education can only be provided if equitable access to quality and lifelong education is provided to these children.
Mission:

 Our approach to both the local community and wider society is through this International Vocational Center. We wish to make positive contribution to the society at large and deliver benefits to the people, the business, and to the community and to uphold our responsibility to the society with integrity and honesty. The foundation will be the movement that focuses on expanding access to education opportunity in the impoverished country.
The foundation set up the above-mentioned Asian International Vocational Center (AIJC) to serve the needs of disadvantaged children ages 15 and older.  It proclaims that Malaysia is well-known for its educational excellence and does not experience poverty at levels seen in many other Asian countries.  As such, the foundation is particularly focused on kids in Thailand, Indonesia, Philippines, Vietnam, Cambodia, Laos, and Myanmar.  
The organization notes that schools in poor areas often do not provide adequate education for their students; thus, it aims to offer specialized instruction in a boarding school environment that takes into account the unique needs of kids from impoverished backgrounds (e.g., inordinate responsibilities at home and a need to work to support the family).  It also aims to provide them with vocational training – empowering them with skills they will need as adults.  The hope is that they can take this knowledge back to their community for its benefit, as well as utilize it in their future careers.
The AIJC boarding school is being targeted for placement on a 26-acre piece of land located in Machang, Kelantan, Malaysia.  The location was chosen because it is close in proximity to most of the countries of focus.  Hijjas Kasturi, one of Malaysia's most respected architects, is overseeing the design and concept for the school with his team. He will be supervising the construction of the building, which will be eco-friendly and have an open space for the children to play and work.  The school's cost is estimated at RM 33 million (~$10 million).
While the school is still in development, the foundation operates after school learning centers (also called "KCHF centers") in poorer parts of Malaysia, as well as motivational camps.  It spends RM 317,680 ($100,000) a year to run the facilities.  There are five KCHF centers, which are as follows:
KCHF Puchong Community Center

KCHF Semenyih Community Center

KCHF Batu Caves Community Center

Kindergarten/Tadika Center

KCHF Gombak Community Center
The Puchong Community Center was the first one built.  It teaches students from pre-school to secondary school level.  It also offers assistance to the children's mothers, providing food aid and tailoring classes, and hosts an annual camping trip in Semenyih for the children and their parents.  The teaching staff members are mostly local residents, many with their own children attending.  The center grew quickly, from an enrollment of 50 in 2011 to 165 in 2015.  
In 2011 F&N Dairies partnered with KCHF through the F&N E.L.I.T.E (Empowering Lives Through Education) program to ensure upkeep of the Puchong center and offer  food aid in the form of F&N milk products; over 300 children benefitted from the initiative.  It also created an eLearning section in the center equipped with four refurbished computers pre-loaded with educational software, and taught basic computer literacy.  
Miliee Kassim said that "This initiative will help Pangsapuri Enggang's [the Puchong center's other name] disadvantaged children access to computer and its many educational resources."  A parent of one of the children said:  "My husband and I missed the opportunity to learn the basics in education and we are so proud and gratified that F&N Dairies and KCHF are offering the opportunity to children from our community. Unlike us, our daughter is confident speaking English and Malay. I believe the center will promote innovative, creative and independent thinking in the children."
Outside of KCHF, Miliee is involved with other nonprofits.  For example, she is a trustee of the Amriteswari Foundation of Malaysia.  Every week, she visits the foundation's support center for single mothers in Bandar Kinrara, Puchong to check if everything is okay and to see if anything is needed.   The center offers baking and sewing lessons for the mothers as well as tuition classes for the children.  She says:  "Actually doing the foundation's work makes me much more grateful to God and much more appreciative of what I have because I see the number of people who don't have a fraction of what I have and to be able to assist them is fantastic."
The Kassims have been recognized for their generosity.  In 2012 they were highlighted as one of
Forbes Asia's
"Heroes of Philanthropy", two of only five Malaysians to receive this honor.  Further, in 2015 they were chosen by Top 10 of Malaysia for its list, "Top 10 Most-Admired Philanthropists in Malaysia."
SOURCES
https://www.linkedin.com/in/miliee-kassim-070ba336
http://kassimchinfoundation.org/news-eliteponggal.html
http://leaderonomics.com/business/follow-the-leader
http://kassimchinfoundation.org/about_aivc_project.html
http://top10malaysia.com/main/2015/08/26/top-10-most-admired-philanthropists-in-malaysia/
http://www.hongleongfoundation.org/five-generous-malaysians-in-forbes-asia-list-of-philanthropists/
http://multimedia.asiaone.com/static/multimedia/gallery/120704_FPL/pic5.html
http://www.forbes.com/sites/johnkoppisch/2012/06/20/2012-southeast-asian-philanthropists/
http://www.thestar.com.my/news/education/2014/12/14/letting-little-ones-learn/
http://kassimchinfoundation.org/news-exposingpoorkidsit.html
http://kassimchinfoundation.org/news-eliteponggal.html
http://www.thestar.com.my/story/?file=%2F2007%2F7%2F8%2Fsundaymetro%2F17950115&
http://kassimchinfoundation.org/contactus.html