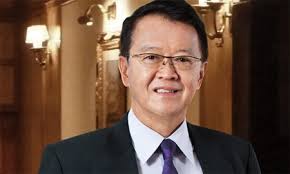 Jeffrey Cheah
BACKGROUND
Jeffrey Cheah is the founder and Chairman of Sunway Group, a property construction
firm. Born in 1945 in Pusing, Malaysia, he studied at the Footscray Institute of
Technology (now Victoria University) in Australia. He graduated with a degree in
business, then began a career as an accountant at a motor assembly plant. However, he
soon left that job to forge an entrepreneurial path.
In 1974 he sought to purchase Sungei Way Enterprise, a defunct British-owned tin-
mining company, with goals of transforming its land into an entertainment and shopping
complex. However, he had difficulty obtaining the necessary loans as various banks did
not deem his plans realistic. He eventually managed to obtain financing, buying the firm
with initial capital of 100,000 ringgit and naming his new venture Sunway Group.
The Group established Bandar Sunway, a 350-hectare township in the Petaling district.
Its first development was the Sunway Lagoon theme park, which consists of six smaller
parks and over 80 attractions distributed across 80 acres of land. The complex fulfilled a
local need for recreational options, but also went on to become one of the top destinations
in Malaysia. It received critical acclaim, being named Asia's Best Attraction for three
consecutive years (2007 – 2009) by the International Association of Amusement Parks
and Attractions. In 2007 it won Best Tourist Attraction from Tourism Malaysia.
Shortly after launching Sunway Lagoon, Jeffrey oversaw the construction of the Sunway
Pyramid shopping mall. This was followed by the building of two universities on the
premises: the Malaysian campus of the Australian Monash University and the local
Sunway University. All of these elements helped make Sunway Malaysia's first
Integrated Resort City, drawing local citizens and global visitors alike. The township has
won many awards, including being labeled the world's best leisure project by FIABCI
(International Real Estate Federation, Paris) in 2002.
Jeffrey says of his project: "We created life from nothing. We were the first people to
attempt to rehabilitate ex-tin-mining land and now experts from all over the world come
here to see how we have managed this." The township's success has inspired him to
explore creating similar communities in other locations, most notably China, India, and
Vietnam. It has also helped turn Sunway Group into a major force. The conglomerate,
with core businesses in property and construction, has 12 business units spanning 50
locations and 13,000 employees worldwide.
Jeffrey's accomplishments have resulted in a net worth of $950 million – making him the
19th richest person in Malaysia. They have also led to him receiving multiple forms of
recognition; these include Asia's Most Innovative Chinese Entrepreneur Award (2005);
an appointment as Officer of the Order of Australia (2008); and The Edge Malaysia
Outstanding Property Personality Award (2013). He has also received nine honorary
doctorates by leading universities worldwide. His impact is undoubtedly profound.
CHARITABLE HISTORY
Jeffrey Cheah has used the wealth achieved from his corporate success to make a
difference. In 1997 he established the Sunway Education Trust Fund to help support
educational institutions. In 2010 the organization was transformed and relaunched as the
Jeffrey Cheah Foundation (JCF) in a ceremony featuring the Prime Minister of Malaysia.
To endow it, he transferred in perpetuity his equity in the Sunway Education Group – a
holding worth RM 700 million that consists of five institutions: Sunway University,
Monash University Sunway Campus, Sunway College, Sunway International School, and
the Jeffrey Cheah School of Medicine and Health Sciences. He also made a personal gift
of RM 20 million.
The foundation's three founding principles are "giving to society", "a vision in
perpetuity", and "quality education". Governed by a distinguished Board of Trustees, it
aims to safeguard the aforementioned educational institutions for the purpose of
providing and sustaining quality education for present and future generations of students.
Operating surpluses from the Sunway Education Group are funneled back into the
schools or disbursed as scholarships and research grants. This structure makes the
foundation the first-of-its-kind in the private education sector in Malaysia.
Sunway schools have helped enhance the quality of Malaysian education and contributed
to better student outcomes. Enrollment numbers have grown by an average of 12% per
year. There are over 20,000 enrollees, with international students from more than 100
countries forming 30% of the population. The schools have produced thousands of high-
caliber graduates, many of whom have gone on to serve Selangor and Malaysia in various
fields. The foundation's funds have made much of this possible — to date, it has
disbursed in excess of RM 165 million (over $50 million) in scholarships.
The foundation has also been used to support institutions with which it has formed
partnerships; examples of these gifts include a $1.6 million donation to set up the Jeffrey
Cheah Professorial Fellowship Fund at the University of Cambridge; and a $6.2 million
gift for Harvard University's Southeast Asian Studies program.
Jeffrey has been honored for his contributions to the education sector and charity in
general. In 2009 he was named as one of Forbes Asia's Heroes of Philanthropy. In 2011
he was recognized by the Malaysia Book of Records for Biggest Contribution to Charity.
In 2012 he received the Honorary Gold Award from the Royal Rotary Club of Kuala
Lumpur. Lastly, in 2013 he received the Honorary Assistant Commissioner of Police
title by Malaysia's Inspector-General of Police for his "commendable efforts in crime
awareness and prevention as Chairman of the Malaysia Crime Prevention Foundation."
While unrelated to JCF, it demonstrates his diverse charitable interests.
Jeffrey has big dreams, envisioning that his educational institutions will one day be
recognized internationally. He says: "I'm laying the foundations for the future and my
dream is that one day Sunway will be known as the Harvard of the East. The
establishment of the Jeffrey Cheah Foundation is my legacy for the future. It is my debt
of gratitude to my country, Malaysia."
http://www.visionkl.com/article/pioneering-spirit
http://jeffreycheahfoundation.org.my/?page_id=144
http://www.jeffreycheahfoundation.com/
http://jeffreycheahfoundation.org.my/?page_id=215
http://www.sunwayreit.com/man_bod_tsjc.asp
http://www.forbes.com/sites/johnkoppisch/2015/08/26/in-asia-40-heroes-of-philanthropy-
are-making-their-mark/
http://sunway.edu.my/success/2010/04/a-gift-of-rm700-million-to-society-launch-of-the-
jeffrey-cheah-foundation/
http://sunway.edu.my/success/2011/03/chancellor-of-sunway-university-tan-sri-dr-
jeffrey-cheah-named-biggest-giver-to-charity/
http://www.sunway.com.my/group/tan-sri-jeffrey-cheah-donates-rm5-million-to-the-
federation-of-chinese-associations-malaysia/
http://www.visionkl.com/article/pioneering-spirit