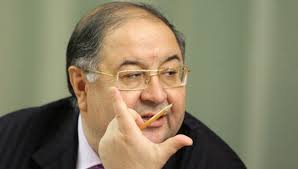 Alisher Usmanov
Formerly the richest man in Russia and at the top of The Sunday Times list of the wealthiest people in Britain in 2013, Alisher Usmanov is perhaps better known for his involvement in Arsenal Football Club where he owns a 30% stake. More recently he made headlines by buying and giving back James Watson's Nobel Prize medal after the controversial geneticist sold it to raise money.
Usmanov built a big proportion of his wealth through metal and mining operations. He is, among others, the majority shareholder of Russian iron ore and steel giant Metalloinvest, co-owner of Russia's second largest mobile phone operator MegaFon, and owner of the country's largest business daily, Kommersant.
The billionaire's net worth was estimated at $14 billion by Forbes Magazine in November 2015, making him the 71st richest person in the world. But like many of the world's other ultra-rich, he doesn't keep all his money to himself.
Earlier in 2015 Usmanov was placed 123rd on the Sunday Times Giving List by donating £71.2 million ($108 million) of his fortune to charitable causes in the preceding year. In 2013 Bloomberg established that he was the most generous giver in Russia by donating almost $194 million of his $17.3 billion fortune to philanthropic causes.
The son of a state prosecutor, Usmanov spent his childhood in Uzbekistan where he was born in the town of Chust in 1953. Planning to pursue a diplomatic career, he went to study at the Moscow State Institute of International Relations and graduated with a degree in international law. But before he started building his fortune he returned to a regular job in Uzbekistan and even served a spell in prison, but was later cleared of all charges on the grounds that the allegations against him were false.
As one of Russia's leading philanthropists, Usmanov contributes significantly to social projects not only in Russia, but globally. He is the founder of the Arts, Science and Sports Charity Foundation. In the last five years, the charitable donations by Usmanov and his companies totaled more than $750 million.
The Russian's most important and noteworthy recent charitable gift was buying Watson's Nobel Prize medal for $4.1 million at a Christie's auction and returning it to him.
"In my opinion, a situation in which an outstanding scientist sells a medal recognizing his achievements is unacceptable. Watson's work contributed to cancer research, the illness from which my father died. It is important to me that the money I spent on this medal will go to supporting scientific research, and the medal will stay with the person who deserved it," is how Usmanov commented on the gesture.
Other recent donations include a Euro 1.5 million ($1,6 million) contribution for restoration work on the nave of the Basilica Ulpia, as well as a Euro 500,000 ($532,000) donation toward the restoration of the Hall of the Horatii and Curiatii, the Palace of the Conservatives and the fountain in Piazza del Quirinale in Rome.
In recognition of his charitable and philanthropic activities, Usmanov received one of Russia's highest civil awards in 2013. President Vladimir Putin awarded him with the Order for Services to the Fatherland Fourth Class. This was after he gave about $150 million to charitable causes in 2012, a lot of it going to social projects in the Russian Federation.
The activities of the Art, Science and Sport Foundation are designed to support projects in the areas of culture and arts, science and education, sports, and community projects.
Arts and culture in Russia in many ways benefited from Usmanov's generosity. He bought the famous painting "St Mark", by Frans Hals the Elder, for the Pushkin State Museum of Fine Arts. It was the most substantial gift to a Russian museum in the last 100 years.
In September 2007 Usmanov paid more than £20 million for the art collection of the late Russian cellist Mstislav Rostropovich, days before it was to be auctioned by Sotheby's in London. This collection as well as that of the late soprano Galina Vishnevskaya was also donated to the Russian state.
Health and education is just as important to Usmanov as arts and culture. The Arts, Science and Sports Charity Foundation assists a number of health and fitness centers, schools, colleges and universities, paying particular attention to educational programs in orphanages and boarding schools. In addition, it provides medical equipment, medication and targeted support for orphans and disabled children in Russia and Uzbekistan, Usmanov's country of birth.
In England the Arts, Science and Sports Charity Foundation provided financial assistance for the restoration of Cutty Sark, a 19th century tea clipper ship on display in London.
But not only does Usmanov put his money where his mouth is, he also gives some of his valuable time to worthy causes. He acts as trustee for a range of social, educational and cultural organizations, including the Russian Geographical Society, Moscow State Institute of International Relations and the European University of St. Petersburg. A keen former fencer, he is president of the International Fencing Federation and set up the International Charity Fund for the Future of Fencing in 2005.
As long as he has money to give, Usmanov will continue to do so. He explained his motivation as follow on the website of USM Holdings, the diversified international company established in 2012 to consolidate his various investments and holdings:
"I am a strong believer that people are capable of achieving success in life, if they are given the opportunity. I have been very fortunate throughout my career in business as well as in sports. That is why I feel it is my duty to share my wealth and provide opportunities to others, especially young people, so that they can grow, develop and be inspired to reach their goals."
Sources:
Forbes Magazine. (2015, November 22). Profile Alisher Usmanov. Retrieved from http://www.forbes.com/profile/alisher-usmanov/
https://en.wikipedia.org/wiki/Alisher_Usmanov
http://usm-group.com/philanthropy/
Novosti, Ria. (2013, July 8). Putin Gives Philanthropy Award to Billionaire Usmanov. The Moscow Times. Retrieved from http://www.themoscowtimes.com/news/article/putin-gives-philanthropy-award-to-billionaire-usmanov/482858.html
Meyer, Henry and Sazonov Alex. (2014, August 14). Usmanov Seen Topping Abramovich as Russia's Biggest Giver. Retrieved from http://www.bloomberg.com/news/articles/2014-08-14/usmanov-seen-topping-abramovich-as-russia-s-biggest-giver
The Art Science and Sports Foundation. Retrieved from http://en.artscienceandsport.com/about
Ziv, Stav. (2015, June 17). Russian Billionaire Returns Nobel Prize to James Watson. Newsweek. Retrieved from http://www.newsweek.com/russian-billionaire-returns-nobel-prize-james-watson-344013