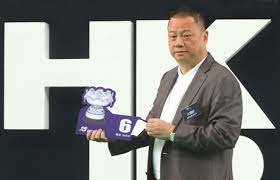 Pan Sutong
Known as the billionaire who made more than $20 billion in a year and then lost $13 billion in one day, Pan Sutong gives away money as easily as he loses it.
"The fluctuation of share prices doesn't affect me at all – I just carry on my business as usual," Pan told the Financial Times after his big loss in 2015.
Pan is chairman of the Goldin Group, with interests in real estate, finance and wine. Despite his earlier losses Forbes estimated his wealth at $12.8 billion by the end of 2015. Not bad for a high-school dropout.
Born in China's Guangdong province in 1963, Pan emigrated to the USA in 1976, but his business career only started to take off when he moved to Hong Kong in 1984 and started trading with electronics brands such as Panasonic.
In 1993, Pan founded Matsunichi Digital and started producing electronic products. By 2007 he started looking for opportunities outside the electronics industry and branched out into the real estate market.
As a high-flying businessman with a taste for the finer things in life, it wasn't long before Pan became involved in the wine industry, racehorse breeding and polo. He bought Napa Valley's Sloan Estate in 2011 and two years later it acquired acres in France's Bordeaux region.
Pan's passion for polo has seen him found the Tianjin Goldin Metropolitan Polo Club, which includes three polo fields and stables for over 300 horses. In 2011 he started participating in horse racing in Hong Kong and purchased some high-priced thoroughbreds, including Tailwind and Gold-Fun. He now also owns a stud farm in South Australia.
Not surprisingly Pan also chose one of his own passions as instrument to raise funds for charity. The Goldin Group has sponsored a charity cup hosted by the Beaufort Polo Club in Britain since 2012. The big attraction and contributor to the success of the cup, designed to raise funds for charitable causes, is the participation of Prince William and Prince Harry, who each lead a team in the tournament.
"We as entrepreneurs need to contribute to society. That's our responsibility," Pan said when he was elected vice president of the Federation of International Polo in December 2012.
One of Pan's most recent charitable donations was a gift of $1.3 million to establish the Pan Sutong Shanghai-Hong Kong Economic Policy Research Centre at the Lingnan University to strengthen research on economic and financial development issues of mainland China and Hong Kong.
The university said in a press release in November 2014 that it aims to synergise resources and outstanding economic research expertise in mainland China and Hong Kong through the center. It will also provide research consultations on industry and economic policies, as well as offering policy consultations and advice to foster the mutual prosperity of the two places.
Back in Europe, Pan made a donation toward the renewal project of a Chinese-style gallery in Paris' Louvre Museum. He said at the time that he hopes to promote cultural exchanges between China and France through the donation.
Not forgetting his roots, Pan helps poor families from his hometown of Shaoguan so that their children can receive a higher education. To this end he established an education fund in 2004. So far it has helped more than 1000 students to attend colleges. At the end of 2014 a multi-functional teaching complex at Beijian Middle School, with a capacity for 3,500 students and teachers, opened thanks to a donation from Pan to fund the construction.
The Hong Kong University's Medical School is also a thankful beneficiary of Pan's philanthropic nature. It received money for research on genes that may influence colon cancer. The university estimated that four hundred families in Hong Kong and about 180,000 families globally are expected to benefit from the research.
In order for him to continue to do philanthropic work, Pan is determined to carry on making money through ambitious projects that he hopes he will be remembered for long after his lifetime. One such project is his Tianjin property project north of Beijing. The $10 billion project includes a 1177-story skyscraper, 12 tower blocks and 33 mansions.
"I want to build a city, which other developers may think is too much to handle… This is an art piece which I hope will be everlasting. Imagine, after 300 or 400 years, people will ask: who built this? And they will know, it's built by Pan Sutong," the flamboyant billionaire told The Financial Times.
Sources:
McGee, Patrick and Noble, Josh. (2015, July 12). Pan Sutong banks on Goldin touch despite wealth nosedive. The Financial Times. Retrieved from www.ft.com.
https://en.wikipedia.org/wiki/Pan_Sutong
http://www.forbes.com/profile/pan-sutong/
Lingnan University establishes Pan Sutong Shanghai-Hong Kong Economic Policy Research Centre. (2014, December 15). Retrieved from http://www.ln.edu.hk/news/20141215/pansutong
Ti, Zhuan. ((2015, October 3). Businessman delivers finer things in life. China Daily. Retrieved from http://europe.chinadaily.com.cn/business/2015-10/03/content_22071968.htm