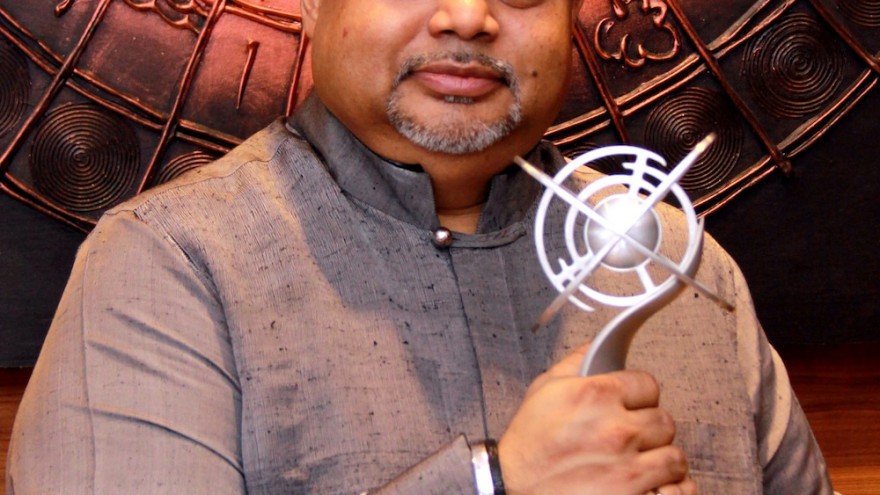 Vijay Eswaran
BACKGROUND
Vijay Eswaran is the co-founder and Executive Chairman of the QI Group.  Born in 1960 in Penang, Malaysia, he studied at the London School of Economics and graduated with a degree in socio-economics in 1984.  He then obtained a CIMA (Chartered Institute of Management Accountants) certification in the UK.  Afterwards, he moved to America to complete an MBA at Southern Illinois University.  He worked while studying, and was introduced to multi-level marketing (MLM) at his job.  Following graduation, he returned to Malaysia, and was hired to expand the operations of an MLM company, Cosway's.
In 1998, after working several high-profile jobs in various countries, including a stint at IBM, Vijay decided to branch out on his own.  He teamed with Joseph Bismark to found a business, QI Group, based in Hong Kong.  It was a challenging effort as he had limited capital and connections, and there was a major economic crisis in Asia at the time; but they persevered.  The company is a direct-selling firm that operates in a number of areas, including lifestyle and leisure, luxury, training and education, property development and management, telecommunications, and logistics.  Over the next decade it launched regional offices in Malaysia, Hong Kong, Thailand, and Singapore, and expanded its presence to over 30 countries through a wide range of subsidiaries.  Its massive success led to an estimated $750 million in annual revenues.
Vijay has opted to share the knowledge he has obtained from his vast experience with others.  He is a highly respected motivational speaker, and lectures around the world on a variety of subjects ranging from business to spirituality.  His audiences have included leading universities, as well as leadership conferences such as World Economic Forum and Commonwealth Business Forums at CHOGM.  Vijay has also spread his learnings through the written word.  He is a best-selling author who wrote the highly successful In the Sphere of Silence, a book on life management that has been translated into multiple languages.  Other books include In The Thinking Zone, 18 Stepping Stones, and On the Wings of Thought. He also contributes to newspaper columns in Malaysia and Sri Lanka.
Vijay's business accomplishments have led to invitations to hold various prominent posts.  In the past he has served as chairperson of the Council of the Quest International University of Malaysia. Currently, he is part of the advisory board of the Global Business Council and Corporate Malaysia Roundtable.  He is also a member of the Business Council for Sustainability and Responsibility.  
His achievements have also resulted in him receiving numerous honors.  In 2006, he was given the honorary title "Dato" by His Royal Highness The Sultan of Pahang.  In 2011, he received the International Excellence in Business award from GOPIO (Global Organization for People of Indian Origin) as well as an honorary doctorate in management by SMC University in Switzerland.  In 2013 he won "CEO of The Year" from the Asean Business Advisory Council Malaysia; the same year, Forbes Asia identified him as the 25th richest person in Malaysia.  In 2014 he was given a special award for education entrepreneurship by ASLI.  His recognition is sure to continue.
CHARITABLE HISTORY
Vijay Eswaran is passionate about philanthropy and has demonstrated this through various activities.  He established RYTHM ("Raise Yourself to Help Mankind") Foundation (RF), the corporate social responsibility (CSR) arm of the QI Group.  He then founded Vijayaratnam Foundation (VF), the Malaysian chapter of QI Group, in 2006; it is named after his father, S. Vijayaratnam, who was also engaged in charitable works.
The Vijayaratnam Foundation facilitates the design and implementation of various initiatives and projects through its work with the public and private sectors, civil society, and the philanthropic community.  It focuses on causes in four main areas – education, community development, arts & culture, and the environment, as summarized below.
Education
The foundation provides opportunities to people seeking to improve the quality of their lives through education.  To date, it has granted study loans totaling RM 166,000 to 21 students pursuing tertiary education.  In addition, it has given aid to students enrolling in vocational courses — 12 students from the Riverbank Academy were granted loans worth RM 50,600.  These individuals all came from troubled or disadvantaged backgrounds.
Community Development
The foundation provides needy communities with the resources necessary to achieve sustainable development.  It emphasizes giving knowledge and solutions that they can later use to help themselves.  It supports a group that fulfills this purpose, the Malaysian Hindu Youth Organization (HYO), founded in 1949 by Vijay's father.  It has helped shape the lives of hundreds of children in a positive way.  In 2010, in honor of its 60th anniversary, the foundation pledged RM 60,000 towards HYO's building fund.
Arts and Culture
The foundation supports programs designed to increase the appreciation of arts and culture among Malaysians of all backgrounds.  The projects aim to create mutual respect among the multiracial, multicultural members of the country.  Through funding of traditional and contemporary dance, music, and the fine arts, it hopes to bring Malaysian culture to the forefront.
Environment
The foundation supports environment conservation activities.  Its highest-profile program is 1 Murid, 1 Pokok, created in collaboration with PPD Daerah Petaling Utama and Majlis Bandaraya Petaling Jaya.  Launched in 2010, the initiative selected students from 45 participating schools in the district of Petaling Jaya; each one planted a tree in the vicinity of their respective schools and cared for the plant throughout their school tenure.  VF pledged to donate a total of 6,000 trees during the course of the project.
As a result of his foundations and his general dedication to philanthropy, Vijay has been recognized in many ways.  In 2011, Forbes Asia selected him as one of its "Heroes of Philanthropy."  The same year, he received the Lifetime Achievement award for Regional Philanthropy at the 3rd World Chinese Economic Forum, hosted by the Asian Strategy and Leadership Institute, an independent think tank.  In 2012 he was recognized with a New Global Indian Award for philanthropy and business.
In responding to his "Heroes of Philanthropy" recognition, Vijay said:  "I am deeply humbled by this honor. I come from a family where philanthropy has been a way of life. My parents have instilled in me the value of being in service to others from a young age."
SOURCES
http://centraljerseyworkingmoms.com/vijay-eswaran-businessman-author-philanthropist/
http://www.forbes.com/profile/vijay-eswaran/
http://www.bloomberg.com/research/stocks/private/person.asp?personId=248353155&privcapId=39506766
http://www.vijayeswaran.com/about-vijay-eswaran/
http://theperfectspacenc.com/vijay-eswaran-the-philanthropist/
http://everything.explained.today/Vijay_Eswaran/
http://dragoncapital.us/vijay-eswaranthe-visionary/
http://thecircledot.com/2015/10/03/vijay-eswaran-malaysian-great/
http://www.vijayaratnam.org.my/
http://newvf.wpengine.com/newsroom/media-profile/
http://newvf.wpengine.com/about-us/our-story/
http://newvf.wpengine.com/our-focus/education-2/
http://newvf.wpengine.com/our-focus/community-development/
http://newvf.wpengine.com/our-projects/community-development/others/
http://newvf.wpengine.com/our-focus/arts-culture/
http://newvf.wpengine.com/our-focus/environment/
http://newvf.wpengine.com/our-projects/environment/1-murid-1-pokok/
http://www.qigroup.com/2011/06/executive-chairman-vijay-eswaran-in-forbes-philanthropy-heroes-list/
http://www.vijayeswaran.com/about-vijay-eswaran/vijay-speaks/
http://www.weforum.org/contributors/vijay-eswaran